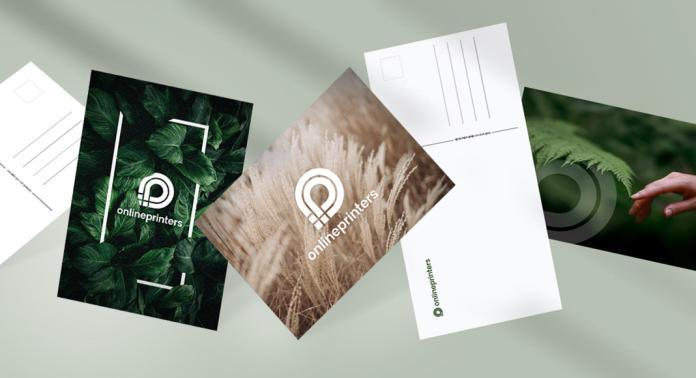 Postcards are ideal for private and business communication as well as for direct marketing measures. However, there are a few things to consider when designing the back. With our free templates as PDF files and InDesign documents for DIN A6 and DIN long, you are on the safe side.
Postcards have been around for more than 150 years. Despite its advanced age and many digital alternatives, this medium still plays a major role today, also in marketing (see: "Postcards: Development and role in marketing"). With our free postcard templates, you can easily design your own copies – whether as an invitation or greeting card for private use or as a promotional tool for your business.
Shortcut to downloading the postcard templates.
Table of contents
Postcards in marketing
What is tangible with the hands has a completely different effect than texts and (moving) images on a monitor. Keyword: Haptics. Besides the experience of literally "touching", postcards offer other advantages compared to digital media:
They can be used for a different purpose – even if it is only for decoration. In this way, the advertising messages not only remain in the memory, but ideally also in the field of vision.
In addition, postcards have a higher value, appear more exclusive and more credible and, in contrast to advertising by e-mail, require no opt-in.
And this is how many different ways you can use postcards in marketing:
Cards as mailing
Many people automatically think of email marketing when they think of mailing. However, this instrument dates back to pre-digital times and was initially called an advertising letter. With the advent of digital mailing options, it was somewhat sidelined.
In the meantime, the inboxes of e-mail accounts are overflowing, while the letterbox at home often remains empty. Real mail thus becomes something special. With an attractively designed postcard, you can therefore easily generate attention. There are plenty of occasions.
Reminder: Remind your customers of important industry dates or the start of the season.
Announcement: New goods have arrived? Are you opening another branch? Your service team is growing? All reasons to inform your customers by postcard.
Voucher/Coupons: Send a postcard as a voucher for placing an order or for a discount on the next purchase. You don't necessarily need a special occasion for this; but this could be, for example, a company anniversary or a longer promotion.
Holiday greetings: Primarily at Christmas, but also at other festivals, a card can be used to express the best greetings.
The effort for sending postcards is lower than you think.
Postcards for individual customer approach
In companies with only a few customers or when addressing premium customers, you can also address your clientele individually.
Birthday card: Congratulate your customers on their birthday with a personal greeting.
Congratulations: Use other events as an occasion for a postcard: wedding, retirement and anniversary for example.
Invitation: Invite selected customers to an open day or in-house exhibition. The invitation can then function as an admission ticket and/or a receipt at the same time.
Thank you card: Just say thank you – for years of customer loyalty or recognisable support in difficult times. Such a thank-you card is usually well received.
Cards to display
The approach is broadly based, yet wastage is comparatively low here. Because only those who are really interested will take a card.
Freecards: These cards are available free of charge in restaurants, but also in other public places such as universities. They have an address field and can therefore be mailed. However, they often also change hands by being handed over personally. This means that the freecards often pass through several hands, which increases the advertising effect. However, the prerequisite for this is an attractive picture motif or a witty saying.
Advertising cards: Advertising can be displayed at various points of interest after prior consultation: for example, for sports cereal bars at the gym and for dog training at the vet. You can also advertise individual products or services in your own shop in this way. The more original, the higher the probability that customers will take the card.
Postcards that offer an additional benefit are particularly successful: as a voucher for a product sample, as a bonus card, as a discount voucher or simply with an understandable way description to the shop.
Postcard templates for designing the back
The standard size of a postcard is A6 (14.8 cm long and 10.5 cm wide). This makes it the most cost-effective format and particularly well suited for mailing campaigns. Most postcards are also printed and sent in this size.
Theoretically, many other sizes are also possible: rectangular with fancy dimensions, square, round or a completely different shape. Such formats attract even more attention, but are also associated with higher costs.
We have compiled postcard templates in the following formats for you:
A6: 14.8 cm long and 10.5 cm wide
long format: 21.0 cm long and 10.5 cm wide
Postcard templates in DIN A6 format
As a template, we have created two different layout variants (with four lines as well as with three lines and one lowered) for you to use for your individual postcard designs.
Templates for free download: Postcards in A6
Template back in A6 format – variant 1
Template back cover in A6 format – variant 2
Template back in A6 format – variant 1 and 2 in one file.
Lines for the recipient's name, address, country and a placeholder for the stamp – these are the basic elements that make up the back of a postcard. In A6 format, this information takes up almost half of the entire postcard.
In addition, there are franking and coding zones. The franking zone is where the franking stamp is located. In the coding zone, the orange-red code is applied, which helps to sort and forward the postcards by machine. The coding zone is often forgotten, but it occupies the lower 1.5 cm of a postcard.
Layout template 1
Four lines, each 10 mm apart: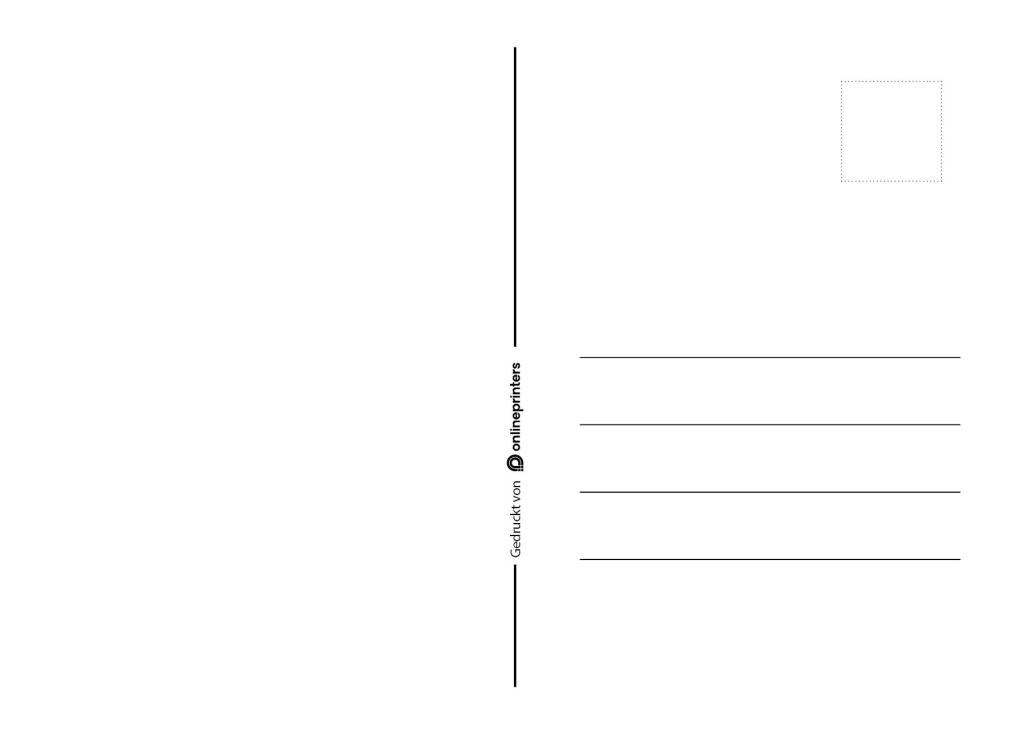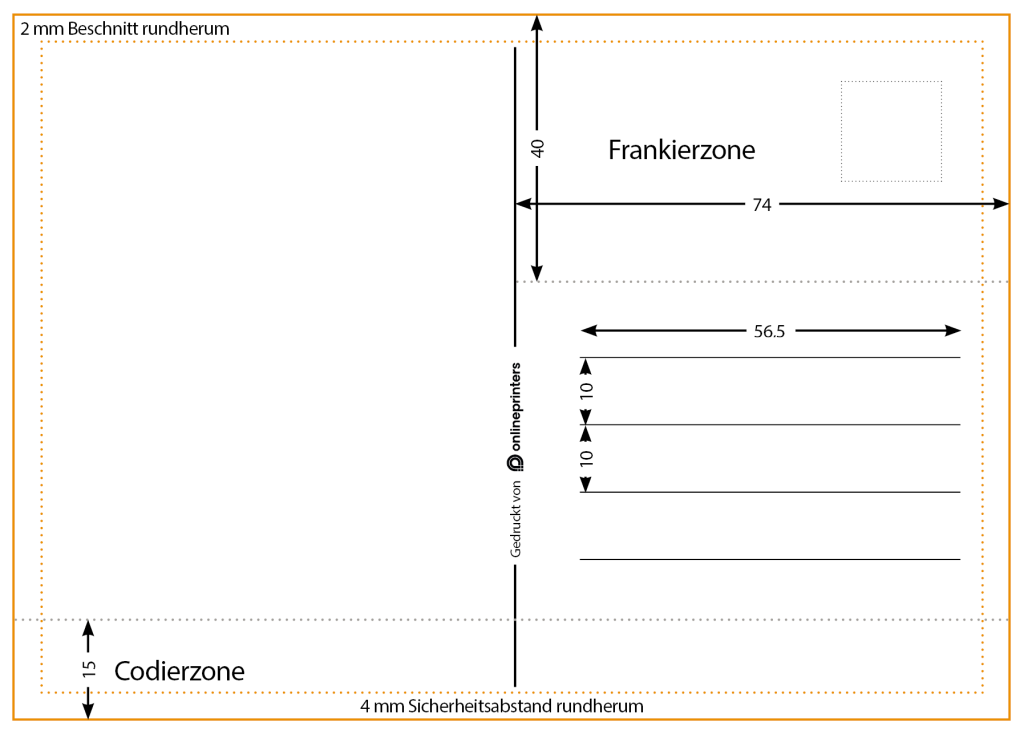 Layout template 2
Three lines with 10 mm spacing each including lowered fourth line:


Long format postcard templates
The long format offers considerably more space than A6. Again, you will find a layout with four lines as well as one with three and one lowered.
Templates to download: Long format postcards
Template back in DIN long – variant 1
Template back side in DIN long – variant 2
Template back side in DIN long – variant 1 and 2 in one file.
On long format postcards, the recipient's name, address, country and stamp take up only a third of the available space. But here, too, coding and franking are required. If the reverse side is to be used as design space and provided with text, logo and other graphic elements, important elements should not be placed in either the franking or the coding zone.
Layout template 1
Four lines, each 10 mm apart: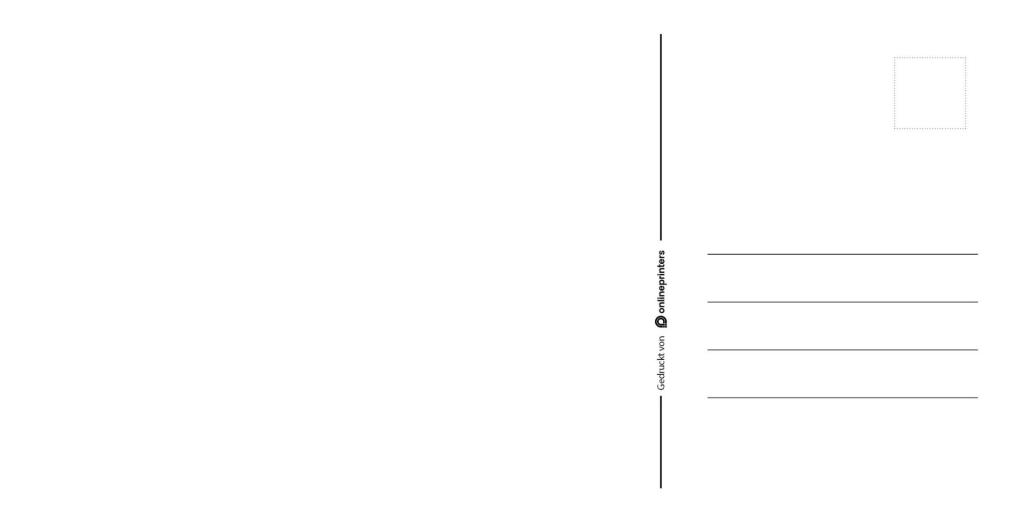 Layout template 2
Three lines with 10 mm spacing each including lowered fourth line: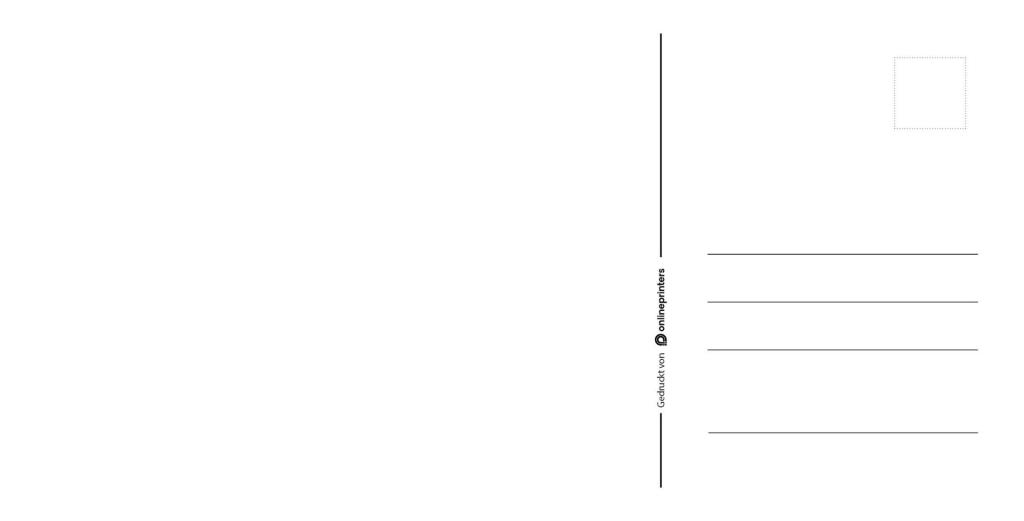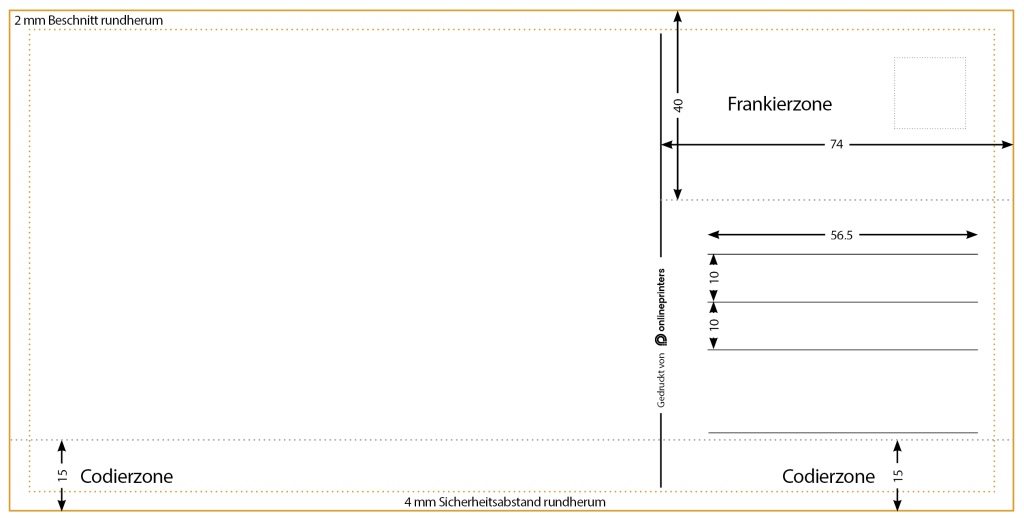 Design your own postcards online
You have an idea, but the design of your own promotional or greeting card is still a bit of a challenge. Design your postcards easily with our online design editor.
You are guided step by step through the design and choose between different layout templates, colours and fonts. You can add your own text, upload your logo and your own images – or choose one of the millions of professional photos from the Shutterstock image database. This is free of charge for your postcard design.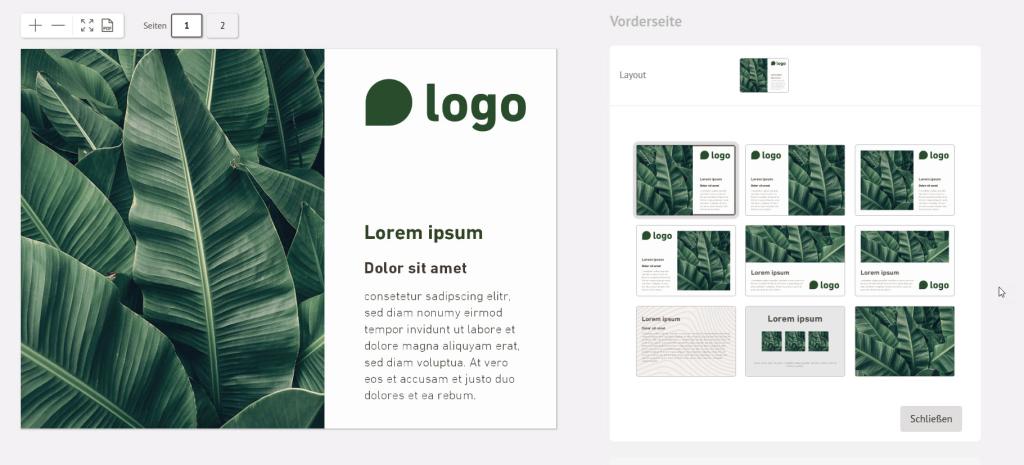 Paper recommendations
How valuable the postcard actually looks depends not least on the quality of the material used and the processing.
Front side coated, back side uncoated
For postcards, we recommend using papers that are coated and uncoated at the same time. The smooth surface of the coated front shows off the actual motif very well, while the uncoated back can be written on.
Sustainable and noble papers
In trend and sustainable are environmental papers. Where it fits, postcards on organic and natural papers therefore do very well. Products made from recycled paper can be printed climateneutrally, which benefits your image.
Fine paper such as Gmunder Papier also leaves a lasting impression.
Good to hold thanks to high grammage
Under no circumstances should a postcard be too "flabby" and thus look cheap. The paper used should therefore not be less than 230 g/m². For particularly sturdy postcards, a grammage of 350 g/m² is also possible; more is usually not required. Noble paper also conveys high value in the lower range between 230 and 250 g/m².
For wow effects
A special eye-catcher can never hurt. For example, effect colours or glossy partial UV varnish ensure high attention.
This article was first published on 28 March 2017 and updated with new templates in May 2023.