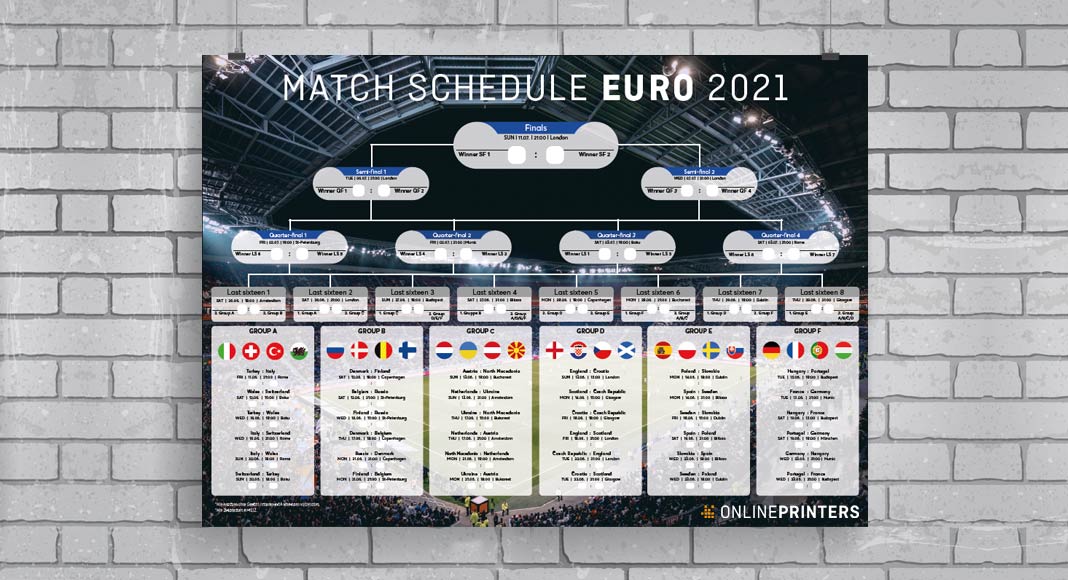 Football fever has gripped Europe. We provide you with important information as well as fixtures templates for Euro 2021 to boost your marketing campaigns and raise awareness for your company.
The European Football Championship is a major media event. The flags of the national teams will be displayed everywhere and cars decorated with flags will be a common sight. Benefit from the international attention the Football Championship will attract. Whether special offers or promotion weeks, you will be well-prepared for a summer of football with our infos and fixtures templates.
UPDATE: Because of the pandemic, the UEFA decided on 17 March 2020 to postpone the European Football Championship by twelve months to 11 June–11 July 2021.
Content:
Important data and facts about Euro 2021
On the occasion of the 60th anniversary of the tournament, Euro 2021 will be hosted by 12 different countries for the first time. The UK will be one of them with London as a venue. 51 matches will be played from 11 June 2021 to determine the new European football champion which will be celebrated exactly one month later on 11 July 2021.
How does the tournament work? Who will advance after the group phase?
Quite simply, the first two group winners and the four best third-placed of each group will make it to the round of 16 (see overview). It is the first Euro to have a round of 16. The knockout phase will begin afterwards with the quarter-finals, semi-finals and the final.
Free Euro 2021 fixtures
Download free fixtures and print them at www.onlineprinters.co.uk for your customers and employees. Personalise our match schedules with your logo and use them to advertise your company and fuel the excitement for Euro 2021 among your customers. We recommend printing the fixtures as A1 or A2 posters on 150 gsm or 250 gsm offset paper. Printing on offset paper makes it easy to enter the results on the match schedules.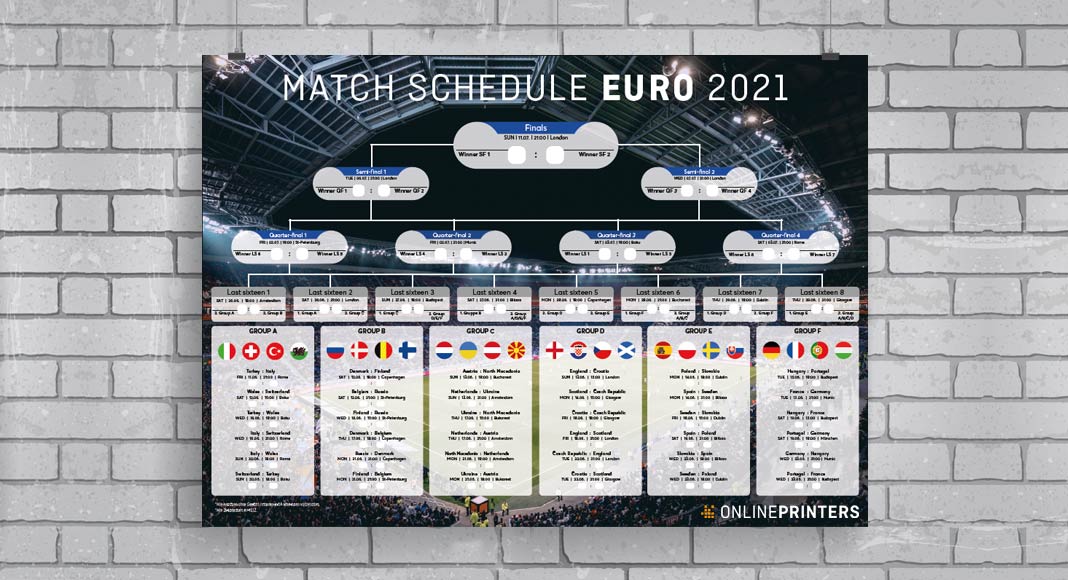 If you want a different image for the fixtures or for your promotional flyers, for example, you can use image databases such as Unsplash, Pixabay and Pexels to download free football pictures. We have put together a few of the best images for you:
Venues: 12 cities – 12 countries
For the first time, the European Football Championship will take place in 12 different countries across Europe as you can see on our map of Europe.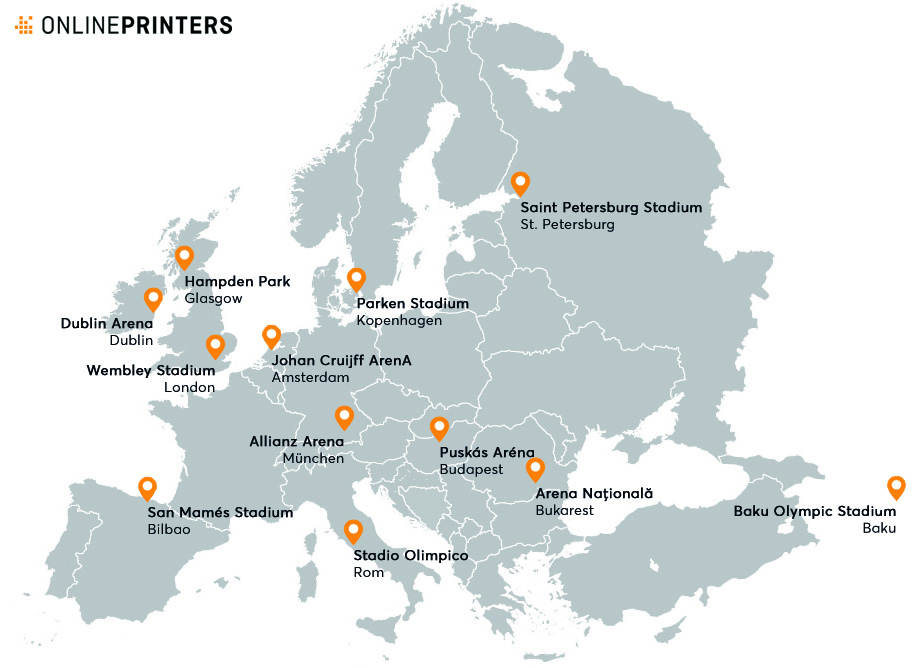 England + 23 nations
Besides England, a total of 24 nations have been divided into six groups. In Group D, England will play Croatia, Scotland and the Czech Republic.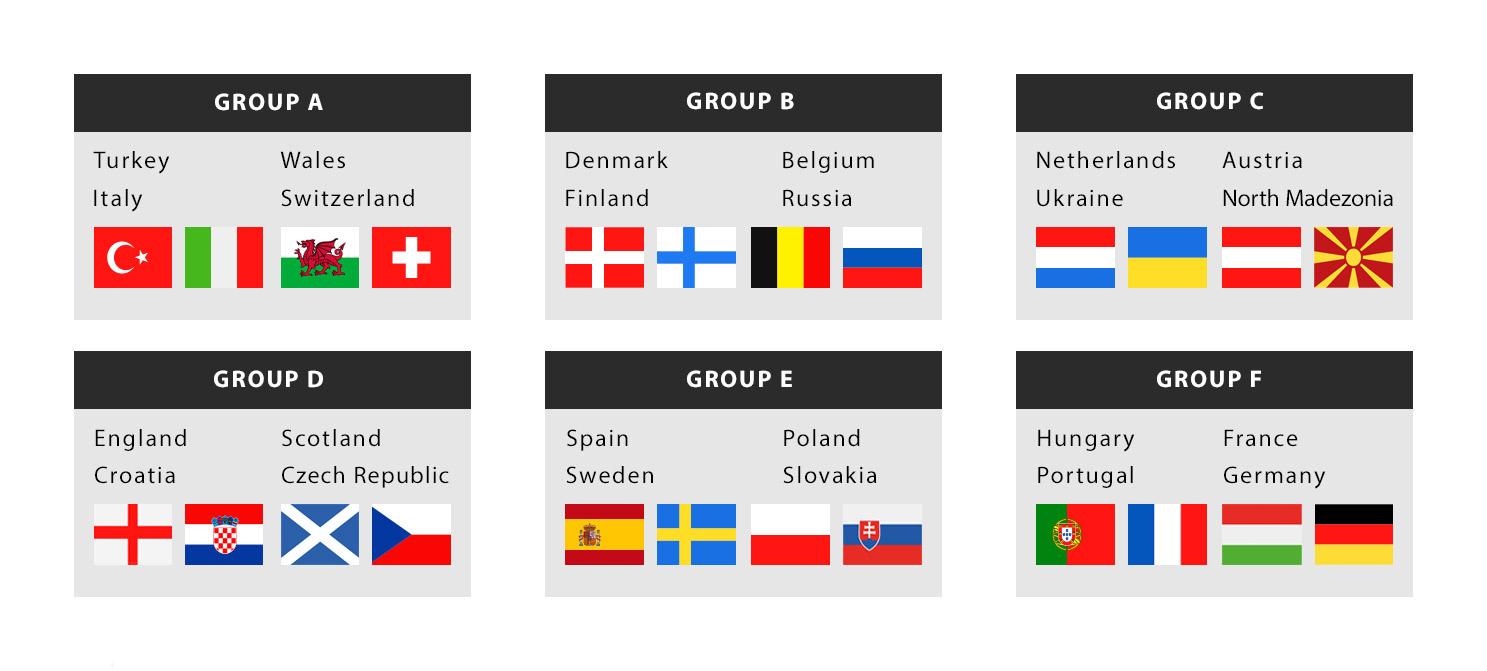 Matches of the English National Team
England can play up to seven matches if they make it to the final – which is the fervent hope of millions of football fans. Here is an overview of the group phase:
13/06/2021, 15:00: England vs. Croatia, London
18/06/2021, 21:00: England vs. Scotland, London
22/06/2021, 21:00: Czech Republic vs. England, London
All Euro 2021 matches at a glance
Last updated 08/04/2021
Using Euro 2021 for your marketing – what can you do?
You are not authorised to use trademarked terms, such as "UEFA EURO 2021" or official graphics, in your communications. The UEFA trademarks are protected and may only be used by the UEFA or its official partners. Licences may be required for events such as public screening events.
Credits: uefa.com
Credits: Unsplash, Shutterstock,