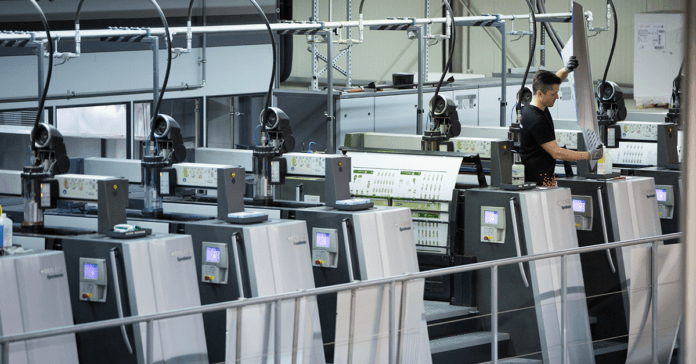 Take a closer look at the largest fleet of offset printing machines in 3-B format in Europe. Customers can order printed products 24/7 in one of our 22 country shops. 90 percent of these printings are produced in-house. Follow the way your artwork files take from uploading and reviewing by our media experts until the parcel is ready for shipping
With a sales volume of more than EUR 200 million and 800,000 customers, Onlineprinters is one of the biggest online print shops in Europe. Let's go on a virtual tour of our offset printing production where brochures starting from 500 copies are printed among others.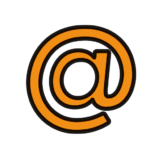 In the beginning, everything was…
smaller. Long before entering into the e-commerce business, the print shop named Druckerei und Verlag E. Meyer GmbH was established in 1984. The production has been located in the Bavarian town of Neustadt an der Aisch ever since, but the production site has grown considerably in the following years. The online shop was launched quite early, namely in 2004, a step which led Onlineprinters to take a pioneering role in a big and promising sector.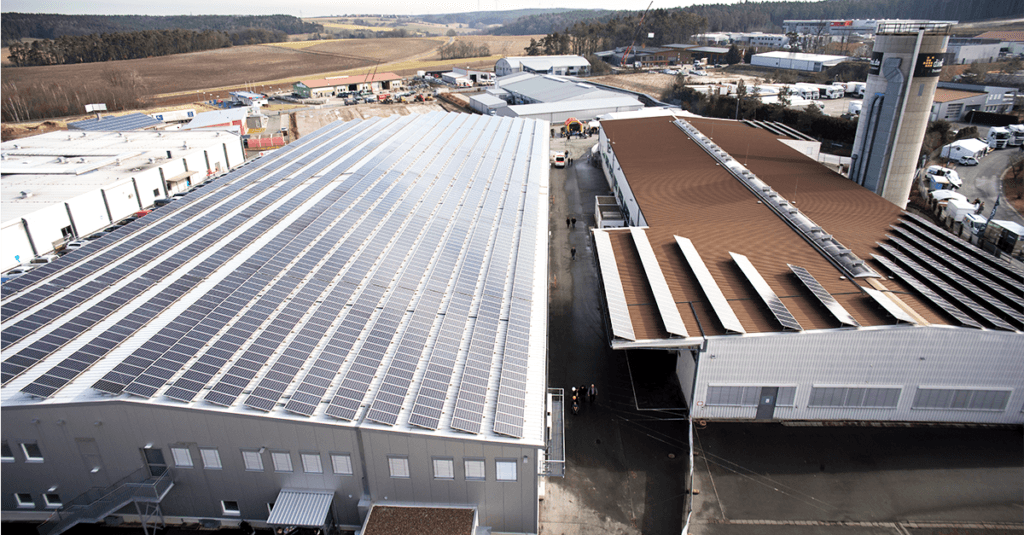 Order checked out successfully – Next stop: combined run printing
The ordering process ends when you click the "Buy now" button. Once your artwork files have been uploaded and released for printing, they are prepared for combined run printing in a next step. Combined run printing, also called gang run printing, is a printing method in which multiple print jobs are placed on one sheet in an effort to reduce printing costs and paper waste. Special software assures that the print jobs are arranged optimally on the printing plates which can be readjusted and optimized by our printing experts if necessary.
When printing brochures, we will "impose" the pages which means to arrange the individual pages on the sheet. This is why we need you to supply artwork created as consecutive single pages.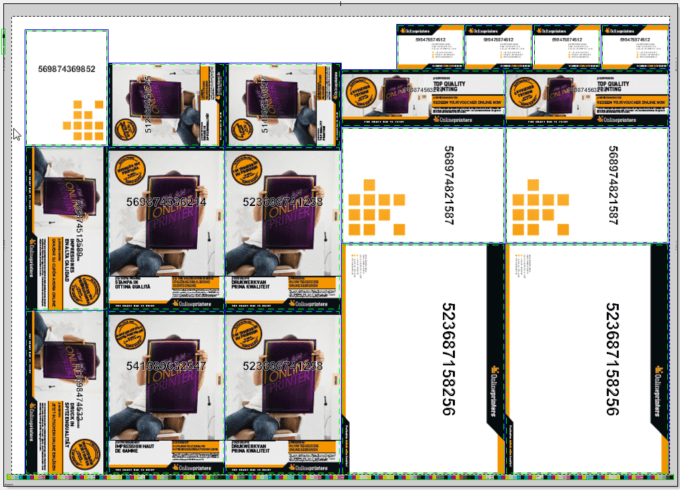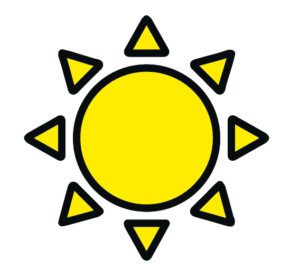 Plate exposure
This step is also called computer-to-plate (CTP). Typically, printing plates made of aluminium are used in offset printing. A special light source exposes the plates using a laser to output the image to the printing plate. Four colour printing on one side requires four separate plates to be loaded into the press for each gang run. For two-sided printing, four more plates are needed for the back of the sheet.

Four colour printing allows virtually any colour to be mixed using the four colours cyan, magenta, yellow and key (black).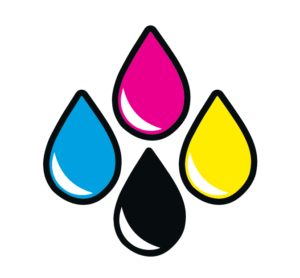 Efficient colour management thanks to central ink supply
All our offset printing machines feature a central ink supply system with pneumatic lines. The lines supply the printing presses with ink from refillable cartridges that hold 300 kilogrammes of ink. This avoids unnecessary packaging waste.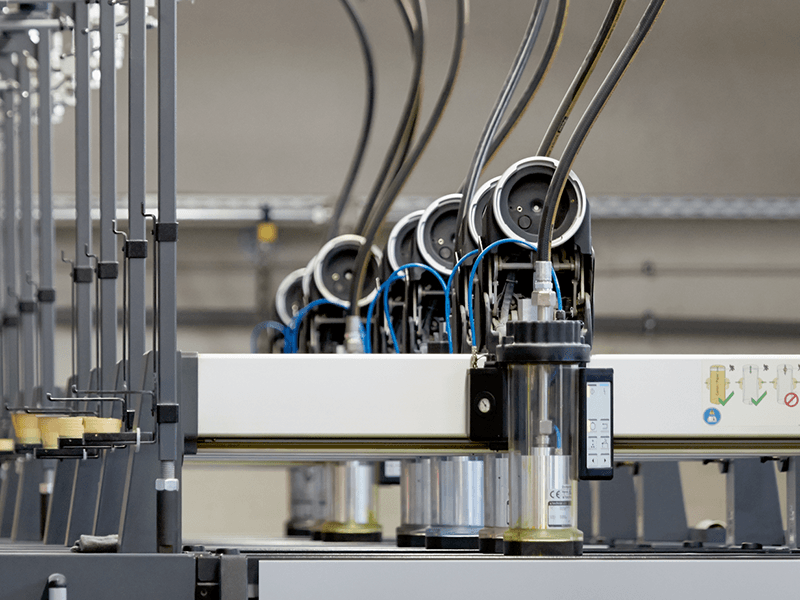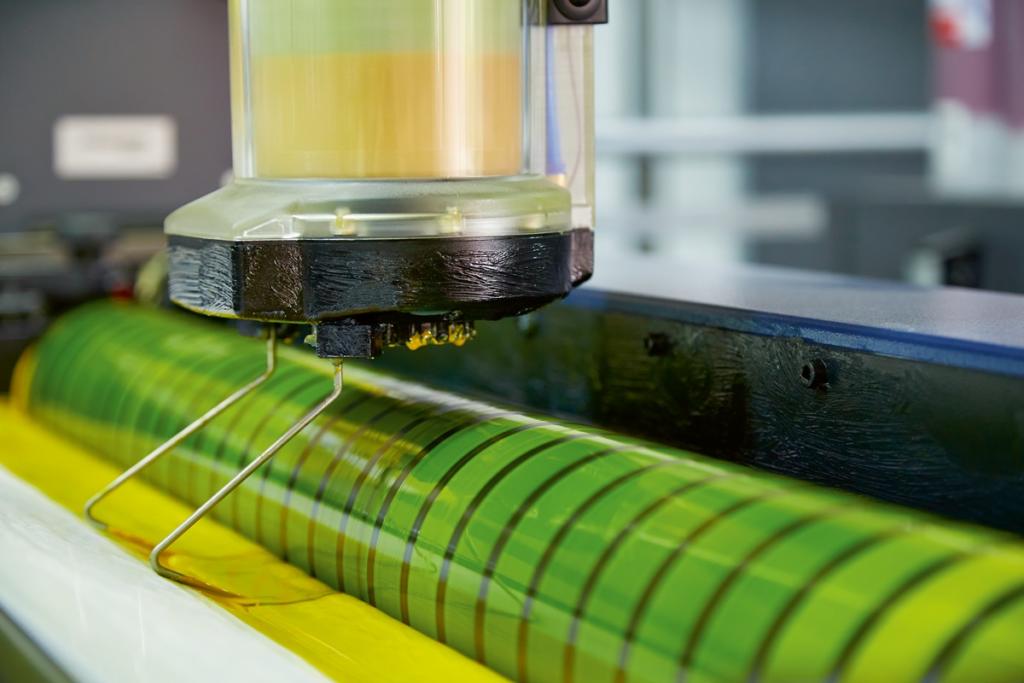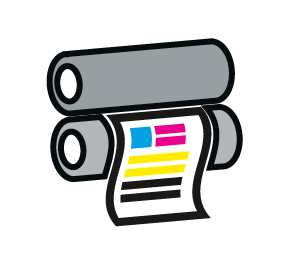 Offset printing
The selected paper now runs through the offset printing machines and each of the four CMYK colours is applied by a separate printing plate.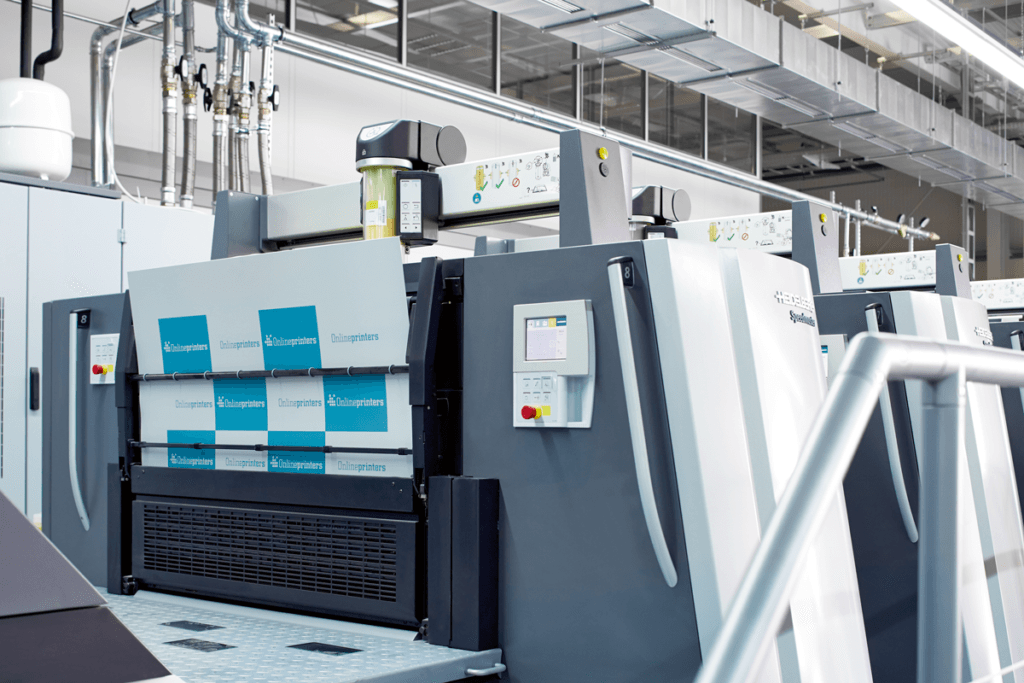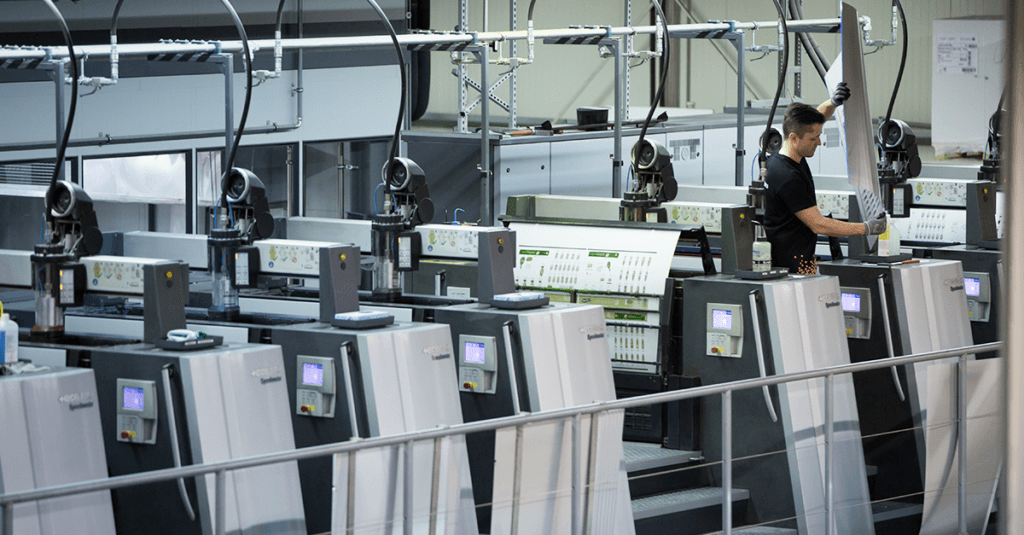 To optimize the machine colour settings, sample prints are created before each print run which are inspected by a qualified media expert. Based on this sample print, our experts can readjust or calibrate the machines if the result does not yet meet the expected quality.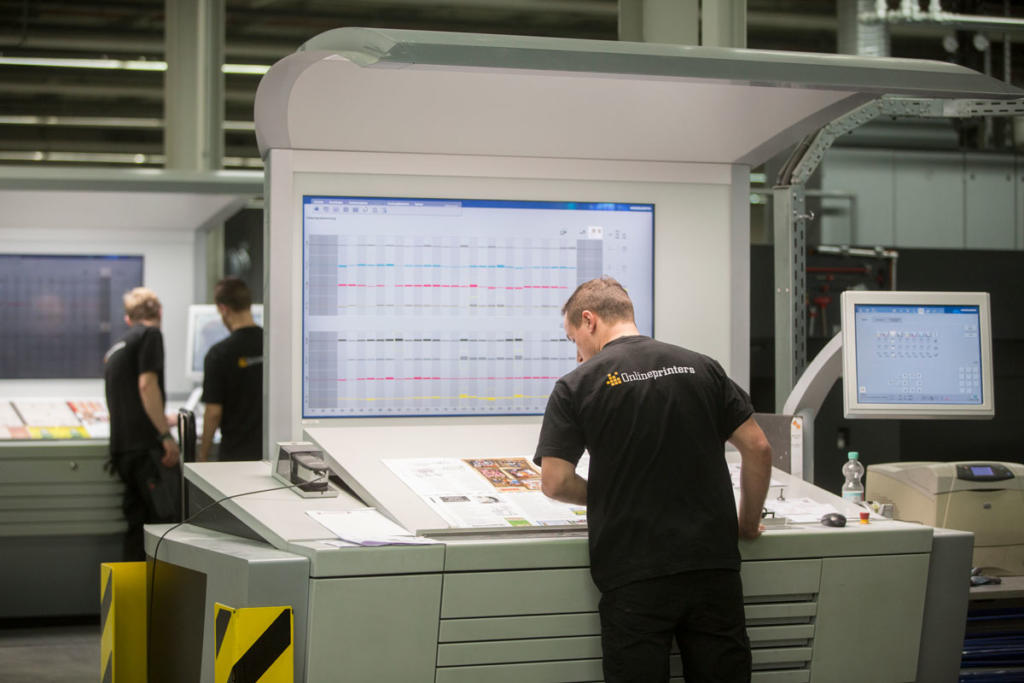 What is offset printing?
Offset printing is an indirect printing method where the subject is not printed directly from the printing plate to the substrate but indirectly through rollers, or more exactly, a rubber blanket cylinder.
Once the actual print run has started, each offset machine is capable of printing 18,000 sheets per hour. The processing speed also depends on the paper weight and texture.
Postpress – cutting
Postpress operations include cutting, folding, stitching, die cutting or finishing steps such as film lamination or paint coatings. The printing sheets are cut to the required dimensions. At Onlineprinters, this step is often performed by semi-automatic cutters.
These machines cut with a pressure of more than 5,500 kilogrammes which is equivalent to the weight of an Asian elephant.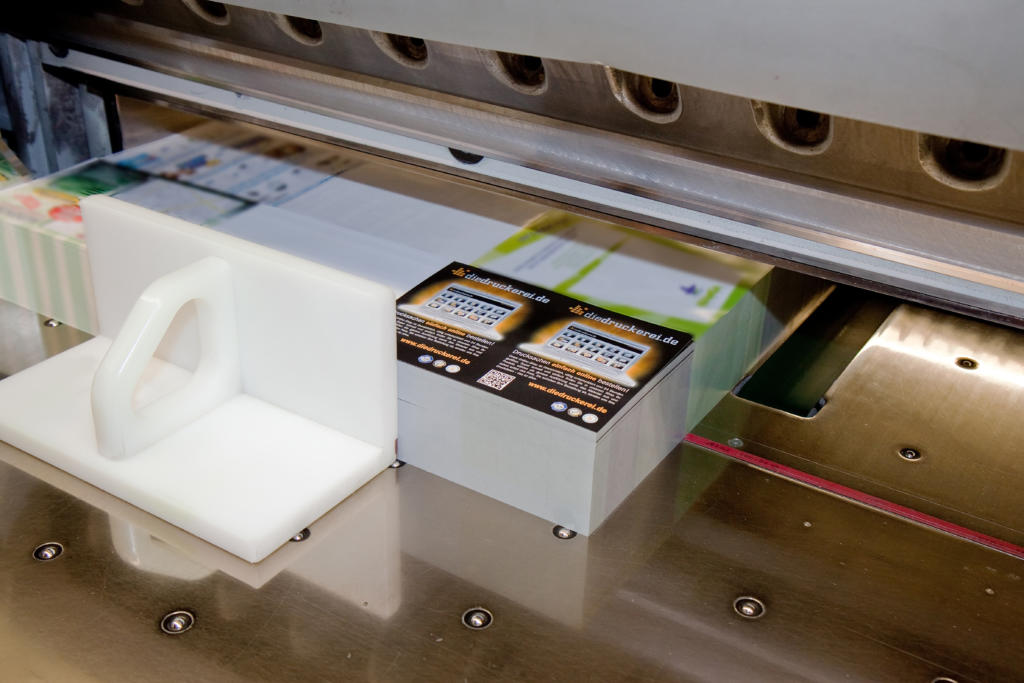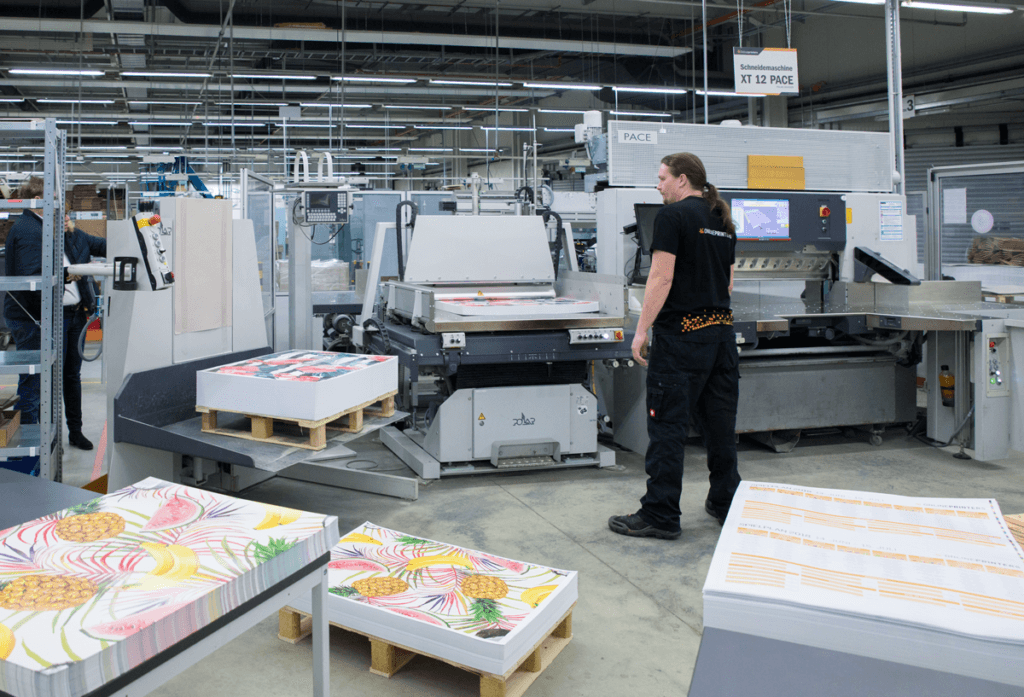 The bleed in the artwork is very important for cutting at this point. Multiple print sheets are cut together and sometimes semi-automatically. This can result in cutting tolerances of a few millimetres. When coloured areas extend up to the edge of your artwork, the bleed assures that there will be no unwanted white edges in case of mechanical variations that cause the print sheet to slip slightly.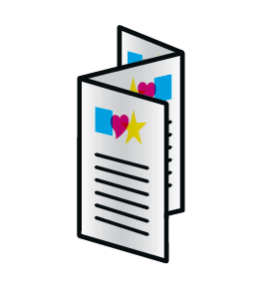 Postpress – folding
In this step, the printed products are folded by machines. Very high weight papers are creased before folding to create clean and straight fold lines. Saddle-stitched brochures, for instance, usually have only one fold.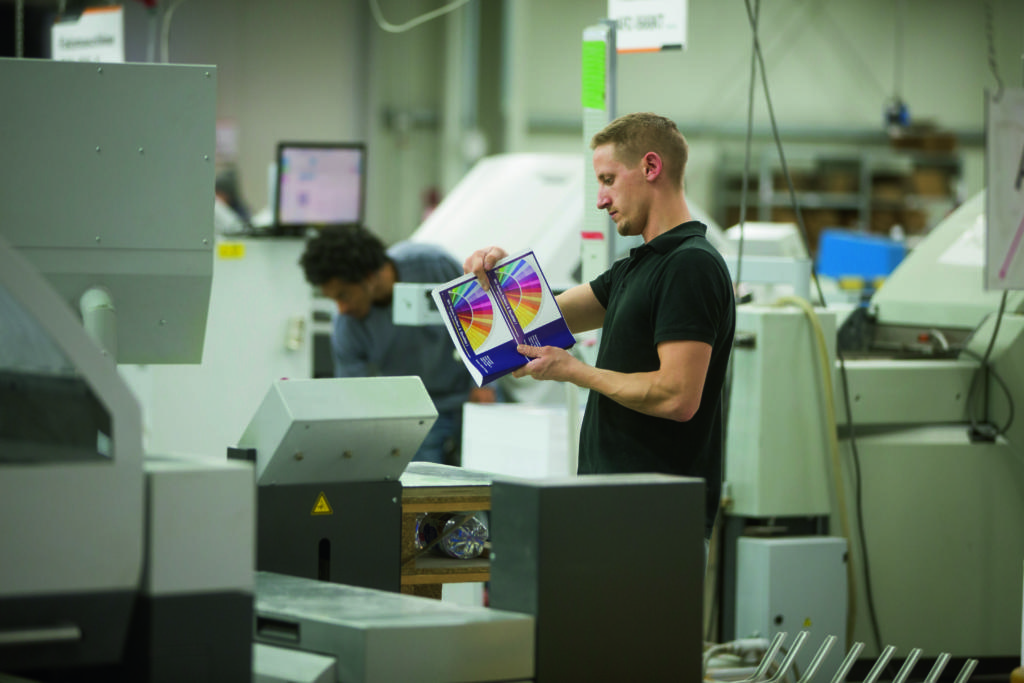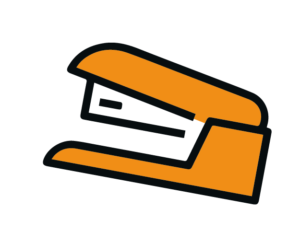 Postpress – binding, glueing, stitching
Depending on the order specifications, brochures are either stitched, glued or wire-O bound. You have to account for this processing step when creating your artwork and add the required space for wire-O binding or a glue strip, for example. The saddle stitcher checks the order of the folded pages, applies staples and places the finished printings into parcels ready for shipping depending on the print run.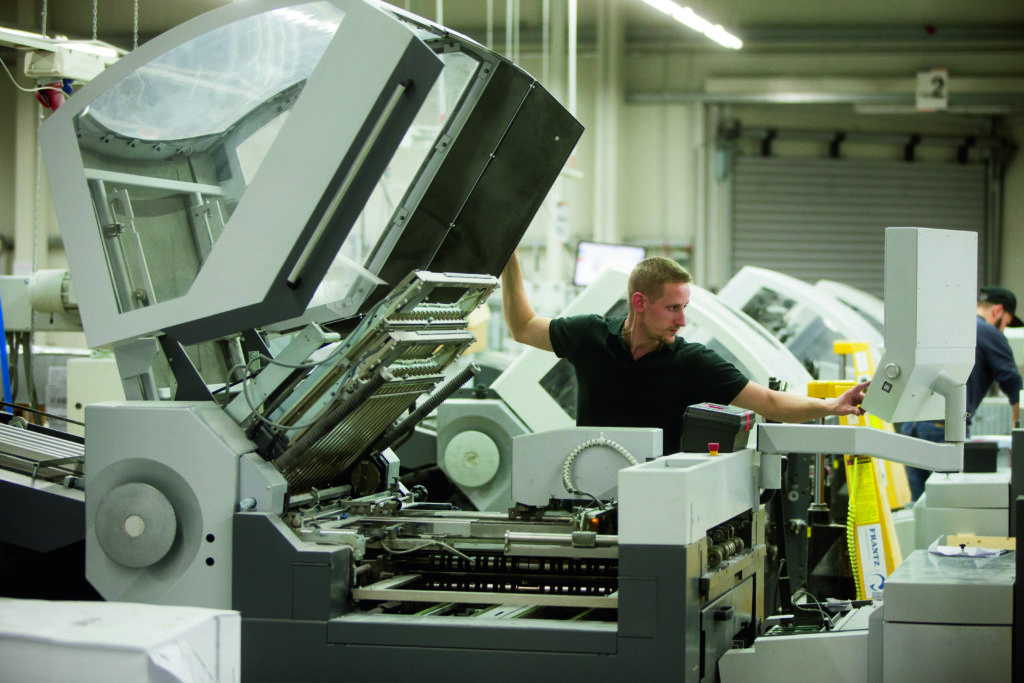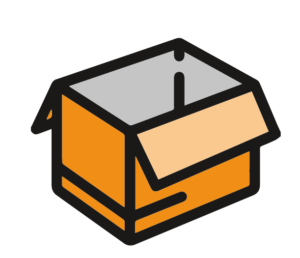 Shipping to 30 European countries
The shipping department prepares your printed and processed products for shipping. Up to 5,000 parcels are shipped each day, all of them carbon neutral.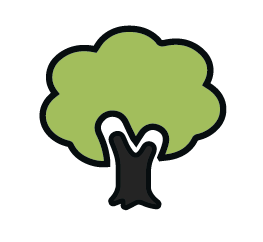 Quality standards and green production
Quality is measurable! As in most other fields, there are specific certifications and quality standards for print production processes that give orientation to customers. Among others, the postpress operations of Onlineprinters are certified according to ProcessStandard Offset (PSO) seal to assure the top quality of postpress activities.
Environmental protection is a priority at Onlineprinters and sustainable processes have been implemented in many production steps such as central ink supply, combined run printing and energy management. Green operations are also very important in all our factories. In 2017, these and further measures were certified according to the French "Imprim'Vert" eco label. To learn more about sustainable operations at Onlineprinters, go to our shop at "Environmental protection".
Guess
How long does it take to install a offset printing machine? And how much does such a huge machine weigh? We have documented the installation of our newest Heidelberg Speedmaster offset printer in a time lapse video.
Onlineprinters attracts large crowds of visitors
At our first Trade and Family Day 2018, we opened our gates to some 4,000 visitors who were enthusiastic about the event. Numerous attractions had been set up on the company premises including an informative tour of the production floors in service.