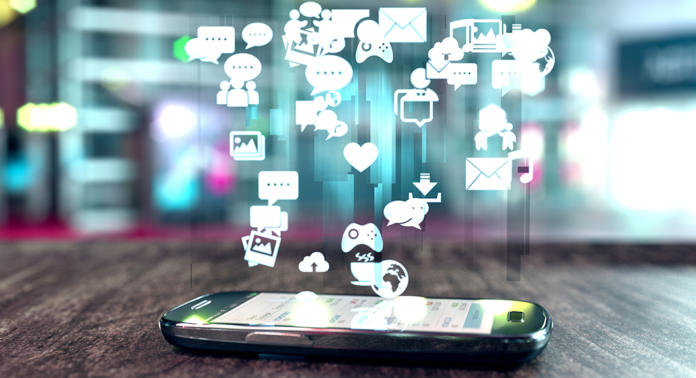 Apple and Google offer a variety of photo and image editing apps in their stores. There are many practical apps for photographers to prepare a shooting, provide tips, inspiration and support. Smart image editing apps are even capable of turning a flawed photo into an acceptable shot.
For better orientation, we will first give an overview of the apps covered in this article.
Overview of photography apps
Subject planning apps:
• Sun Surveyor Lite
• SkyView Lite
• Long Exposure Calculator
• Rolleimoments
• PhotoBuddy
Apps during the shooting:
• Camera and DSLR apps by Canon, Nikon, Sony & Co.
Post-editing apps:
• Snapseed
• Fotor
• Pixlr
• Photodirector
• AirBrush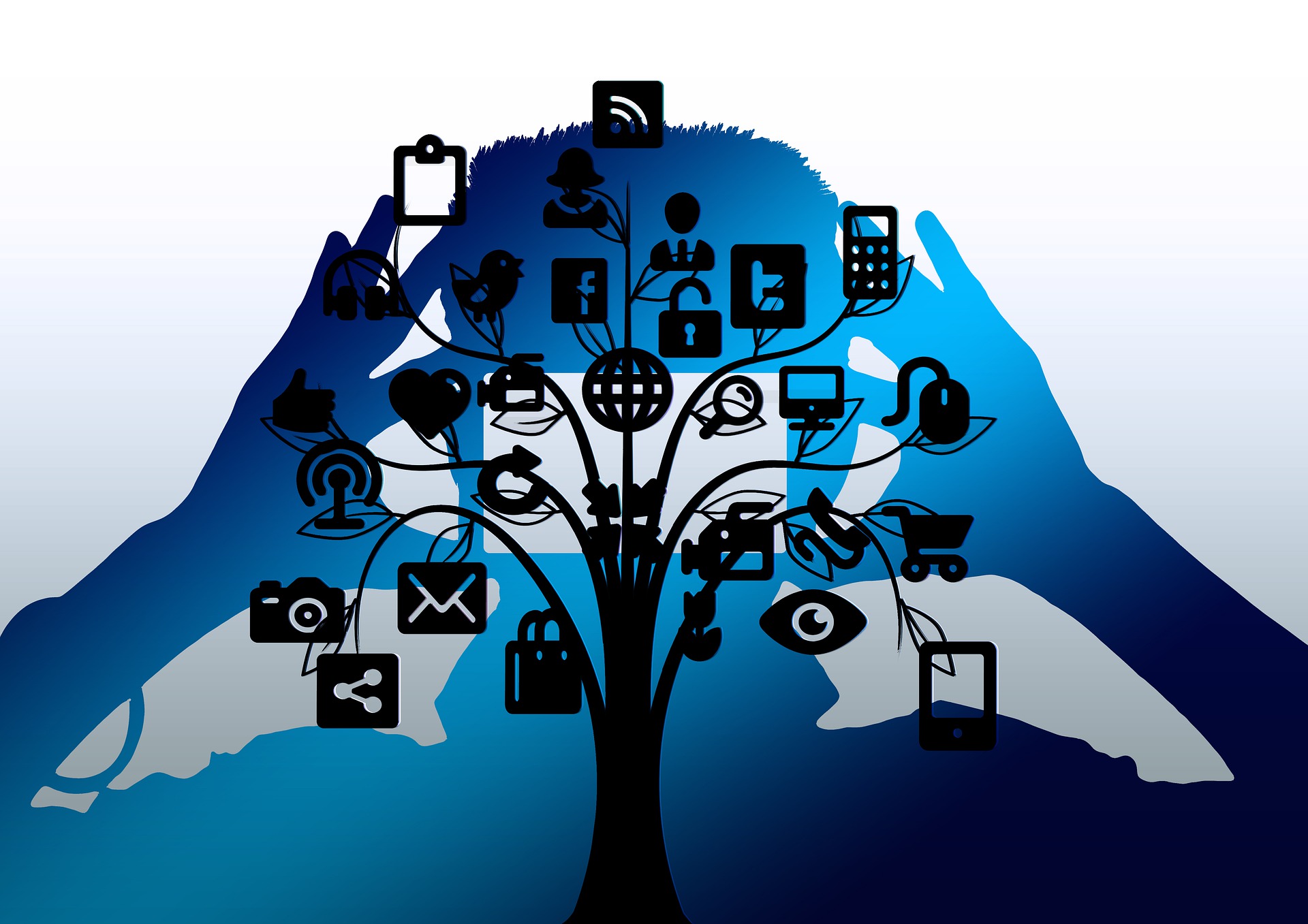 Google Play or the App Store both offer a wide range of apps for almost any need and target group – whether smartphone user, hobby photographer or avid shutterbug.
So first decide what you need the app for and which functions it should provide. Do you want the app to plan your next sunset shot or rather to edit images? Or is the mobile use of your camera photos a priority because you want to share them on social media sites such as Instagram?
And, of course, you have to decide whether you are willing to pay for an app or whether you prefer a freeware solution? There are free photography apps and programs that are ad-supported and provide in-app purchases of extended functions or filters. Paid apps usually provide more functions, better support, are more up to date and don't show annoying ads all the time.
If you are still undecided, do the following: First think about what you need and then write a short list. Take the following aspects into account:
• What do I need the app for: planning, quick availability or photo editing?
• How often will I use the app?
• Which functions are important?
• Do I need an app that covers a wide range of functions? Or a specialist app?
• Which operating system do I have – iOS or Android?
• Do service and regular updates matter?
• Do I want an app that provides multiple functions or a dedicated tool?
• Paid or free?
Photo planning apps: well-prepared for your shooting
Maybe you already see a concrete scene in your mind's eye such as a sandy beach, the orange glow of a sunset or a lighthouse. In this case, photo editing apps come in very handy to prepare and plan the details of your shooting. They can save you time, avoid problems and make life easier for photographers of all levels. Whether you take shoots of people, buildings or landscapes, there are apps for all needs and purposes.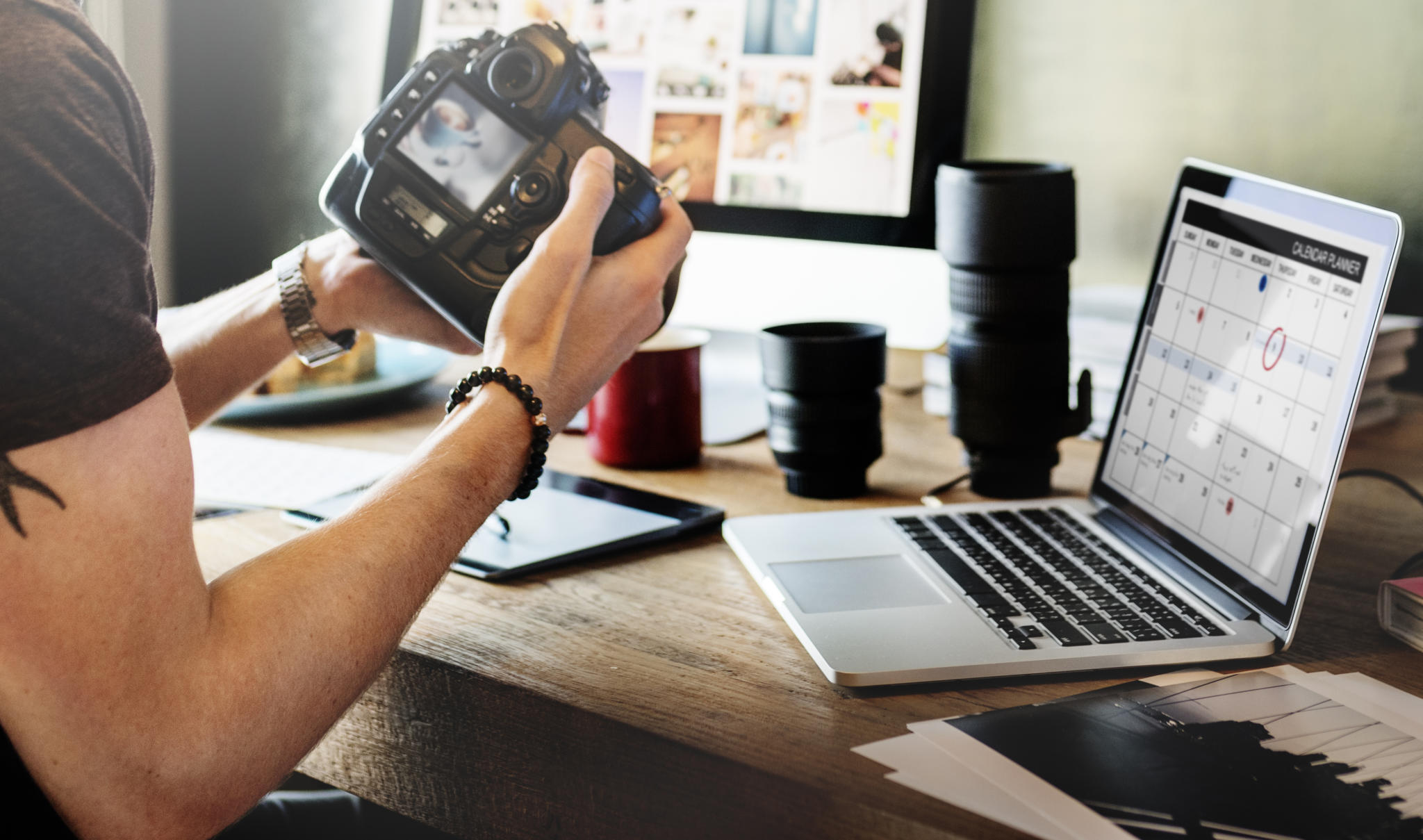 Awe-inspiring sunset shots and sunrise photographs are always popular on social media – you can presently find more than 4.6 million photos at #sunsetlovers (August 2018).
For sun worshippers: Sun Surveyor Lite
If you want to capture the magic of the sun, the Sun Surveyor Lite app is what you need to create stunning photos. The app helps you to exactly plan the next sun photo at your location. Sun Surveyor visualises the sun's path with minute accuracy. The integrated 3D Compass additionally shows where the sun sets and rises, the solar altitude and predicts the golden or blue hour for magic pictures. The operation is intuitive and quite simple. Sun Surveyor Lite is free and available for iOS and Android devices.
You have to pay for the Pro version which includes more functions. The app allows you to select a custom location which is quite useful. Also, the developers implemented augmented reality (AR) and detailed information for the users. The live camera view enables you to project the sun and moon paths and see whether buildings or other structures will hide the sun. What is more, you can use the position search to pinpoint the perfect spot for your photos. The Lite Version is sufficient if you are looking for a suitable sunset location in your vicinity.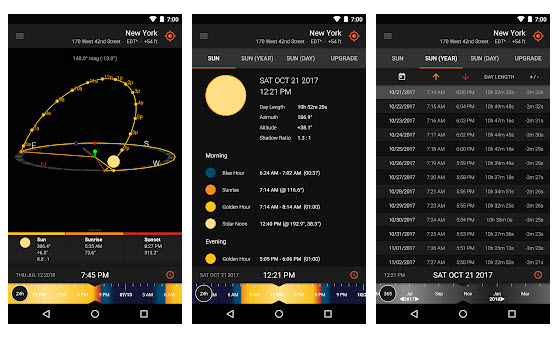 Reach for the stars with SkyView Lite
If you prefer pointing your camera at the night sky to take photos of the Milky Way, shooting stars or the moon, you will love SkyView Lite (SkyView Free for Android). It is ideal for all stargazers. SkyView provides information on the movement of the stars and the planets and shows their exact position in the sky. Moreover, the free app visualises many constellations, the moon position and satellites. Thanks to the augmented reality (AR) function, it's a breeze to discover celestial bodies, day and night.
The Lite version lets you see all common constellations. To get access to more celestial bodies and background information, you can upgrade to the Pro version. The Lite version is sufficient to take an occasional nocturnal photo. But if your focus is on photographing the stars, you will find the extended functions and background information of the Pro version helpful.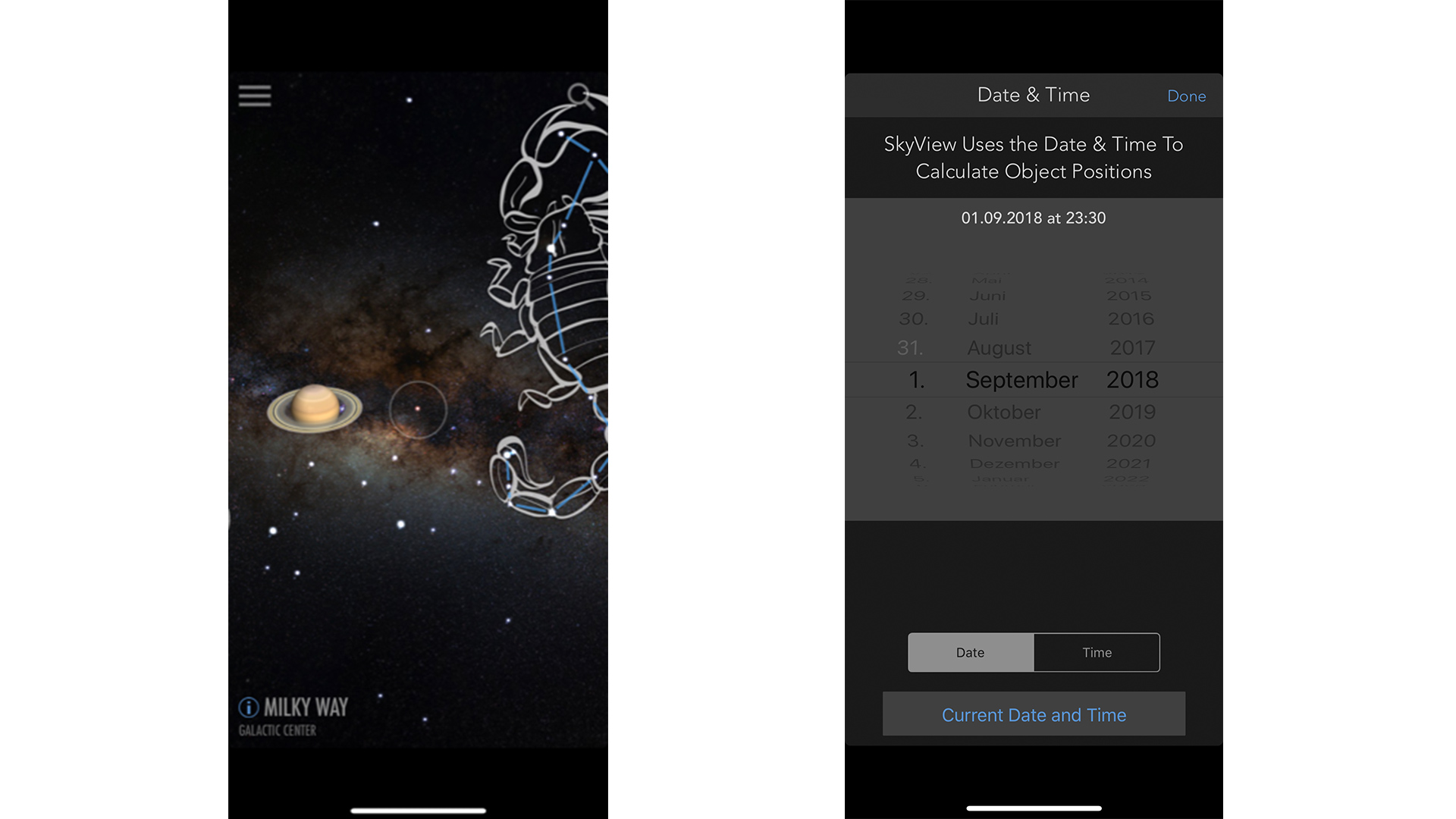 Long exposure made easy Long Exposure Calculator
Long Exposure Calculator is a must-have app for shooting long exposures. The app is indispensable for photographers to calculate the exposure time when using ND filters. The no-frills free app is easy to use and supports photographers with making landscape photos and producing blurred motion effects on moving subjects. Manually adjust the setting of your ND filter and the regular shutter speed of you camera without filter in the app to learn the correct exposure with filter. The Long Exposure Calculator for iOS and Android is free and without ads. Stripped to the essentials, the app has a straightforward and no-frills layout.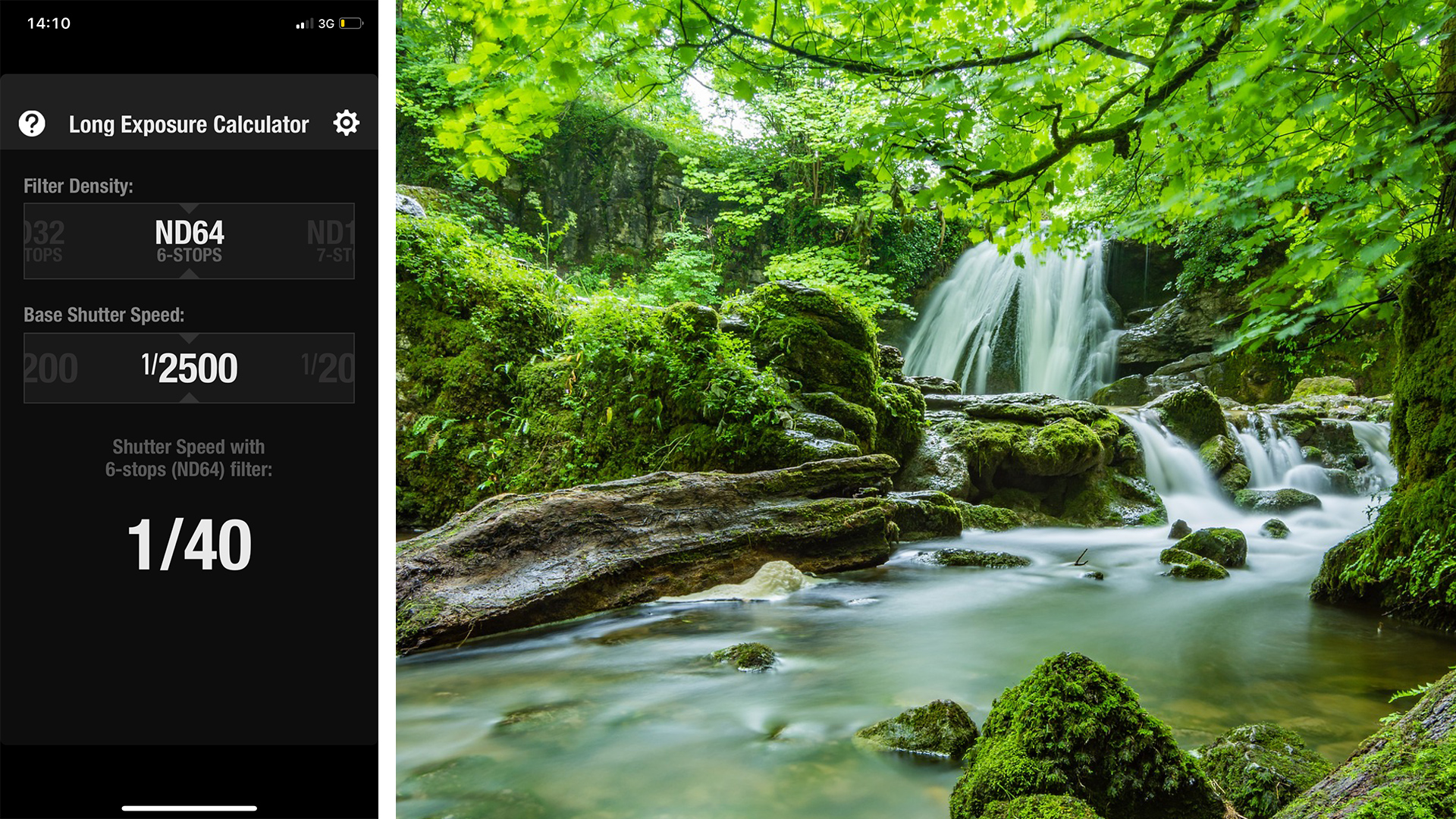 The all-rounder for shootings and photo expeditions – Rolleimoments
The Rolleimoments app combines multiple functions, making it an essential everyday tool for outdoor photographers. The "4 in 1" app facilitates the planning of your next shooting and is also an ideal travel guide for photographers. Whether Berlin, London or New York, the app shows the light conditions as well as sunset or sunrise time everywhere in the world. You can scout your locations in advance and save them for later.
Moreover, the app provides a weather forecast. It shows the temperature and sky cover in 24 hour or 14 day mode plus the wind speed. You can track the development of the cloud cover and account for this in your photo shootings. Rolleimoments also incorporates an ND calculator, i.e., the functions of the Long Exposure Calculator app. The app can be downloaded for free in the App Store and Play Store. There are no ads and regular updates are provided. The app is developed by Rollei, a manufacturer of cameras and photo equipment, and offers further support and help under the Service menu item.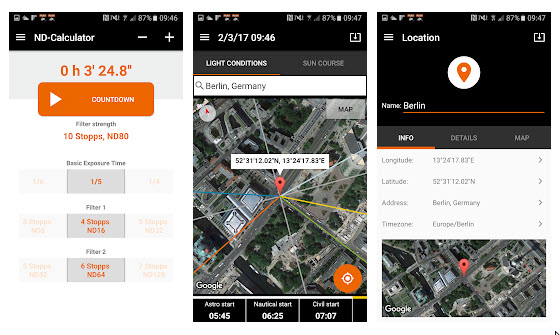 A brief note: What is HDR?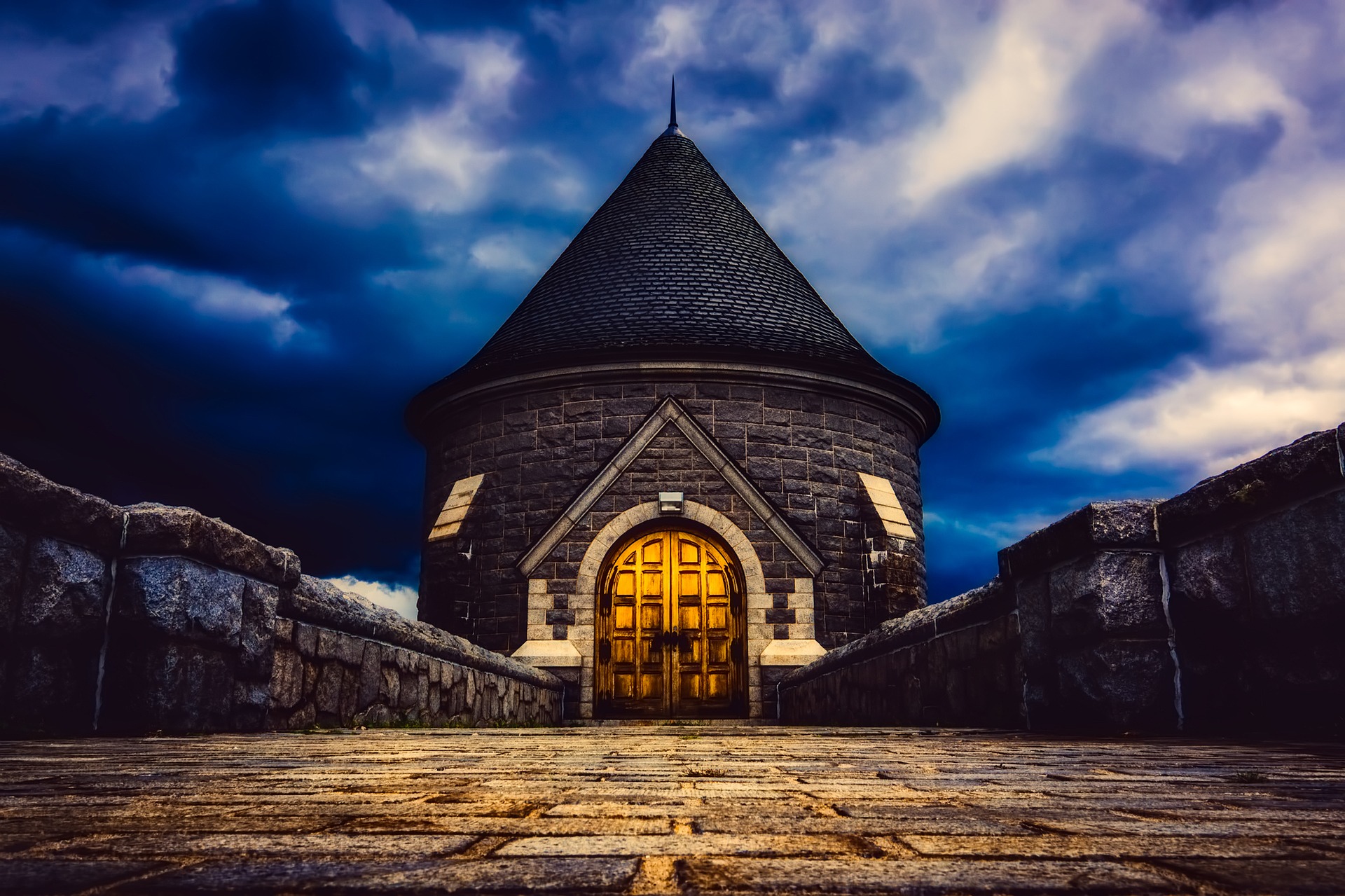 For high-definition details: HDR (High Dynamic Range) merges the best parts of at least three photos with different exposure times into a single image. This compensates for major luminance differences and makes the photo appear evenly bright and richer in contrast. The details of a subject are rendered more clearly.
PhotoBuddy – Ami et complice de tous les photographes
PhotoBuddy is advertised as the "perfect digital assistant for photographers" and promises to assist photographers with a number of useful tools to plan their shots. And that is exactly what the app does. It calculates common camera parameters such as exposure settings, depth of field or the lens angle – quickly and easily. PhotoBuddy delivers the correct flash settings and optionally calculates the optimum focal length and the exact distance of objects. Moreover, it provides information on the correct settings of their subject to HDR photographers. In addition to these technical features, PhotoBuddy shows the phases of the moon and the path of the sun for any location. You can tailor the app to your needs: Just select your model from a list of cameras.
PhotoBuddy is an affordable tool that has a lot to offer and is definitely worth its price – especially for users who are looking for a central planning tool. The only downside is that the app is available for Apple devices only.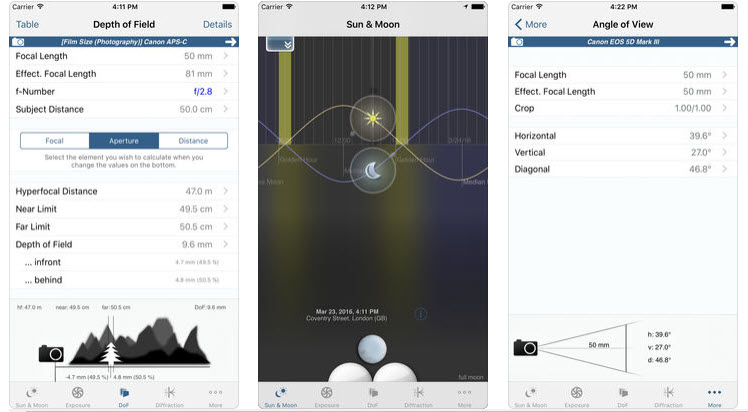 PhotoPills, an all-round tool for professional photographers
PhotoPills is at the upper end of the price range which might be a bit too much especially for occasional user. But avid photographers will definitely find the investment worth it. The app is a central tool which enables users to detail-plan their photography projects in advance. A jack of all trades, PhotoPills combines many useful functions that make sun and star shots a lot easier.
In our opinion, the app is great for landscape and architecture shots. For instance, you can define in advance whether a prominent building such as the Eiffel Tower in Paris can be shot against a sunset. Shadows cast by buildings, landmarks or mountains can equally be calculated in advance. This app is definitely worth the investment for professional users and businesses.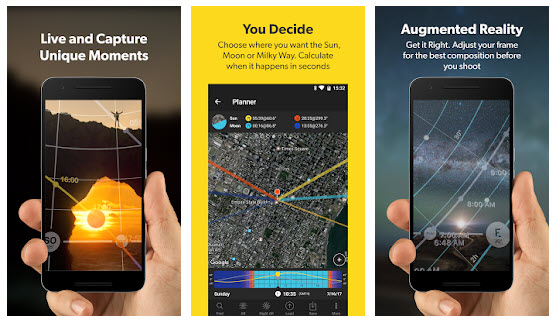 Go to App Store
Vendor apps: Accessing your camera photos on the go
In the age of the smartphone, there are still good reasons to purchase a digital camera. Especially professional photographers, design enthusiasts and discriminating shooters prefer a "real" camera and appreciate the detailed setting options it provides. The only problem is that sharing photos from a digital camera is slightly trickier. This is where the smartphone comes into play.
For several years now, camera manufacturers such as Panasonic, Sony, Nikon, Canon, etc. have been selling cameras with integrated Wi-Fi function which enables the wireless transfer of photos to a smartphone or tablet computer. With the right vendor app installed on the mobile device, photographers get immediate access to their high-resolution photos – ideal for all users who are frequently out and about. This allows the photos to be posted quickly on Instagram or Facebook. Thanks to their high resolution, these photos can also be used for posters and other (large) printed products.

What is more, the app and the Wi-Fi connection of the camera turn the smartphone into a remote control for the camera so that the camera shutter can be operated from a distance. The function is ideal to take group photos or self-portraits. By eliminating the vibration caused by pressing the shutter button, it allows you to create successful long-exposure shots or night photos without additional equipment. The feature is also great for animal photography: First set up the camera in the perfect location and then operate the camera from your hiding place to not scare away shy animals. With no cables to think about, the wireless setup allows you to release the shutter from a distance and check the result quickly and easily.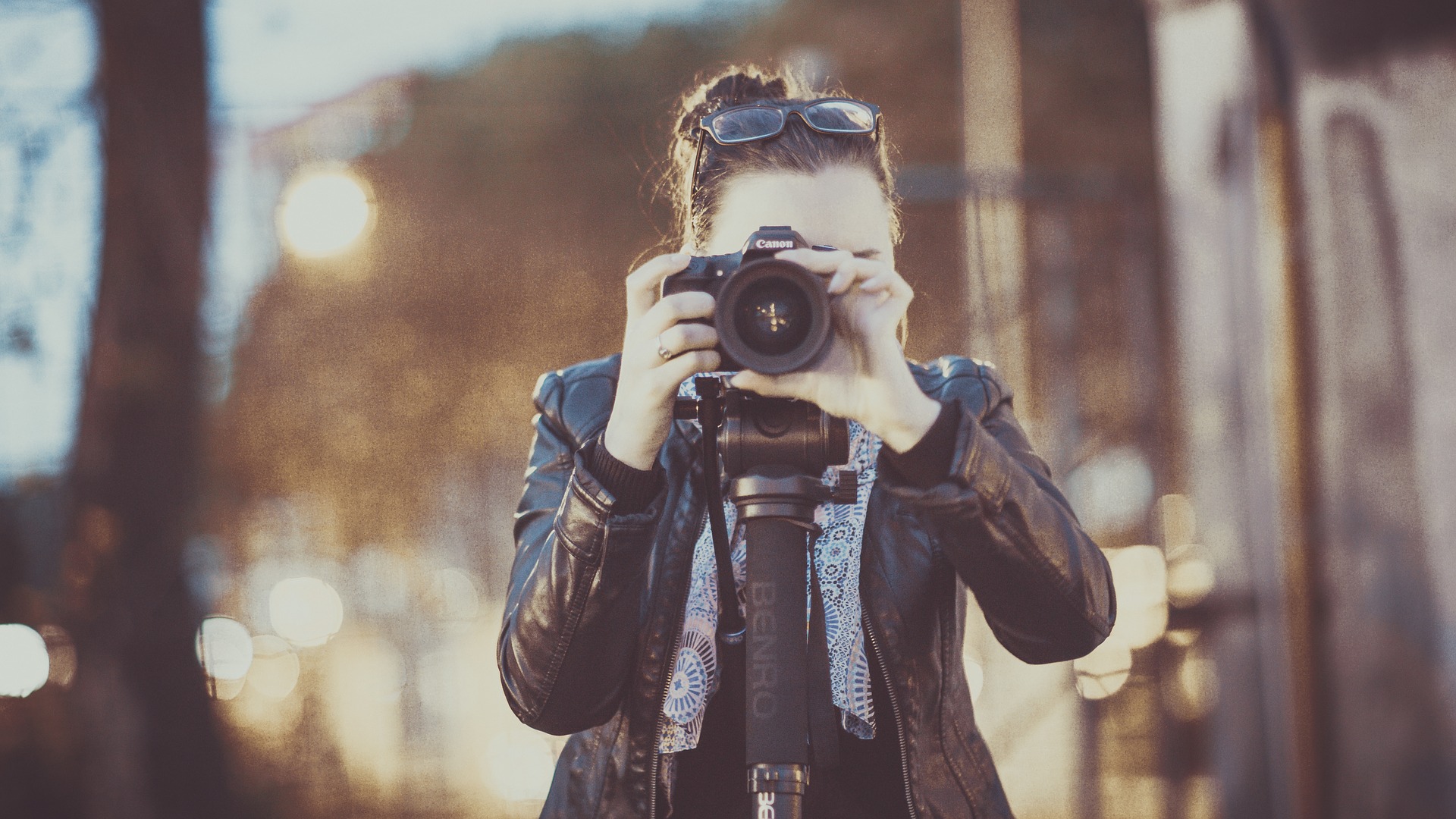 We recommend choosing the appropriate camera format from the beginning – RAW and JPG files can be used for more purposes both online and offline.
Note: When using the smartphone as a remote control for your camera, the Wi-Fi connection will cause the battery of your mobile phone to run down more quickly. So it is a good idea to pack a charged power bank in your photo bag in addition to a tripod, memory card and a replacement battery.
Post-editing apps: Smart image editing on the go
Post-processing is an integral part of the image creation process and key to making awesome photos you can share via social media. The smartphone makes it easy for modern-day photographers to quickly edit photos on the go. This turns an ordinary shot into a WOW photo.
You can of course use the preinstalled apps to edit your photos, but their functional scope is rather limited. The standard settings are insufficient to make detailed adjustments and fine-tune your photos or use filters, frames, overlays and special effects. For these applications, the Google Play Store and the App Store offer a wealth of photo editing apps. These apps are great for photographers who want to edit their photos to give them a unique look. By using similar filters and editing modes, you can develop your own personal style and make your shots stand out from the crowd. Ideally, this will extend your brand recognition.
We have picked the highlights among these apps that offer the most possibilities and are fun to edit photos with.
The TOP 5 of our favourite photo editing apps
• Snapseed – easy to operate and detailed setting options
• Fotor – photo editing, inspiration and challenge in one app
• Pixlr – fires your creativity with various overlays and frames
• PhotoDirector – for stylish photos without unwanted objects
• AirBrush – helpful tool for beauty retouch
Snapseed – makes the most of every snapshot
Snapseed is a free pocket photo editor that delivers great results. This app has a lot to offer, and thanks to its comprehensive setting options, it will turn almost any shot into a special photo. Self-explaining and intuitive, the app parameters can be set with a swipe of the finger. Besides standard options such as luminance, contrast and saturation, the app provides numerous filters, structures and frames to personalise your photos. Also double exposure and HDR shots are available at the swipe of a finger.
Lovers of retro will appreciate the app functions "grainy film" and "retrolux" for more design freedom. The "repair" function enables unwanted objects to be removed quickly. Snapseed offers a small but mighty selection of overlay frames and fonts. It is not possible to implement collages and colourkey shots with this app. But nevertheless: We love Snapseed and never want to miss it again. This useful tool is free for Android and iOS devices and no ads are displayed while using the app.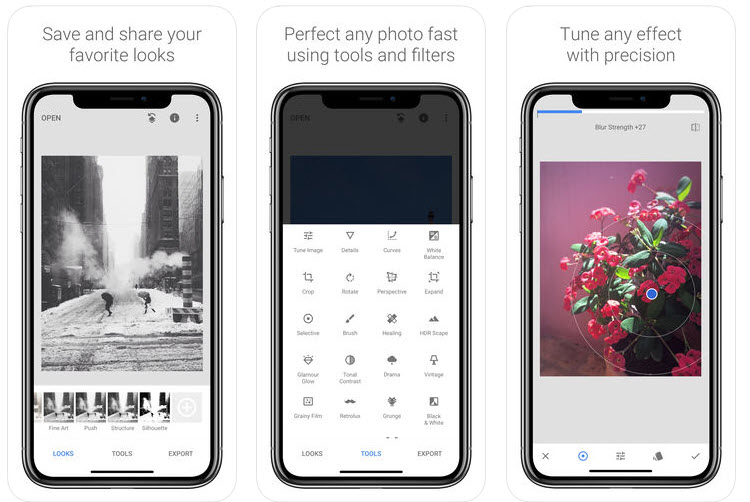 Fotor is a photo editor that inspires and challenges its users.
Fotor is a photo editor that is free for iOS and Android in the Lite version. The app enables users to fine-tune their photos using sliders to increase or reduce effects such as contrast, saturation or vignette. Moreover, it includes a wide range of effects to change the mood and atmosphere with varying intensity. Also there are stylish black-and-white filters that turn shots into real eye-catchers.
Further functions such as stickers and overlay texts open up further personalisation options. Moreover, this app enables you to crop your photos to optimise them for social networks or make funky collages. You can add more frames, fonts, scenes, effects and stickers via in-app purchases.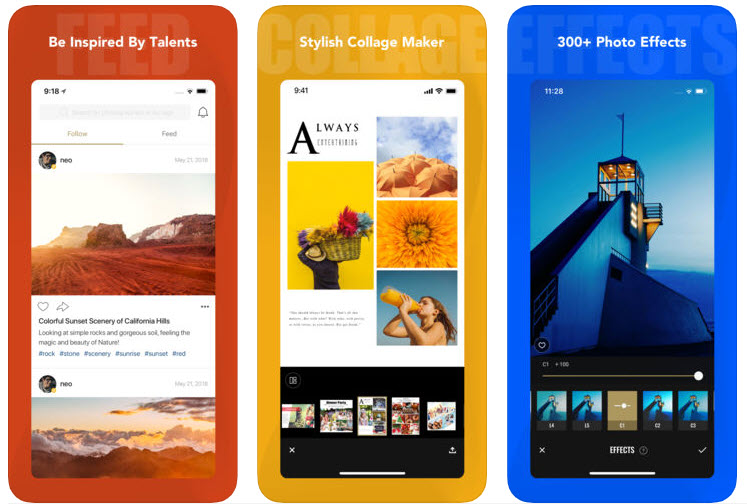 Photographers looking for new challenges can participate in the different themed competitions that are offered on a regular basis. Join Fotor's contests to win money and fame from Fotor's community. To use this function, you have to log in via Facebook or e-mail. Moreover, you can view the integrated photo gallery to glean inspiration from the community. Fotor is a free photo editor that provides a variety of setting options and is easy to operate. The displayed ads were subtle and did not bother us.
Pixlr – creative photo editing made easy
We already tested the desktop version of Pixlr Editor. Here, we present the mobile Pixlr app that can make your creative dreams come true. The app is free for Apple and Android devices and brings a plethora of image editing options. Pixlr is capable of much more than the basic setting options such as contrast, luminance, focus, dynamics and saturation. It offers various filters and effects to create unique images. A wide selection of overlays, including patterns, graphics, light effects and frames, provide more design freedom.
Pixlr is also the top choice if you want to customise photos with slogans and text. Various fonts are available for this purpose. Moreover, you can create classic collages of your favourite shots. The ads in the app are not too intrusive and are only displayed when saving and sharing the photos which did not bother us. If you are willing to pay, you can upgrade to the ad-free Pro version.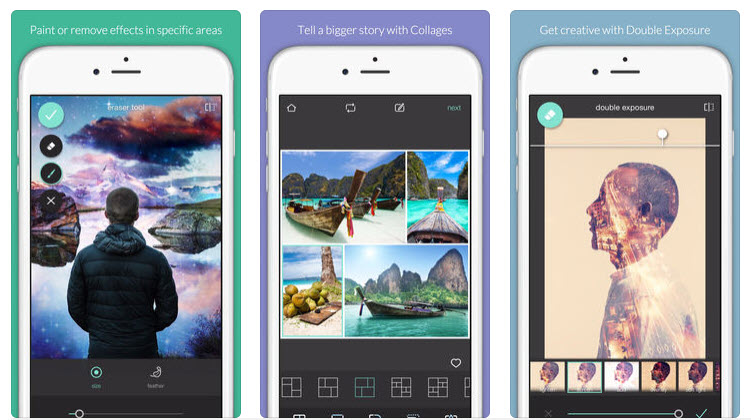 Make the most of your photos with PhotoDirector
PhotoDirector is free for Apple and Android devices and provides a comprehensive range of photo editing functions. Art filters, different light effects, overlays and lens flare turn photos into stunning works of art. You can also make collages and use different frames, stickers or speech bubbles using the pre-installed modules. You can download these free modules for specific themes such as Christmas or Valentine's Day. Ads are displayed in this case.
The skin smoothing functions is one of the app's highlights. It is perfect to fine-tune portrait photos and make small wrinkles and impurities disappear. The "Repair" option is another handy feature. It allows unwanted structures such as overhead lines to be removed from landscape photos quickly and easily. This is limited to three times a day in the free version. With Android, you can add more functions and templates via in-app purchases. The Premium version is not for free, but promises unlimited "smart object removal", better output quality of your photos and no ads. Also the PhotoDirector logo for frames and logos will not be displayed in the final photo.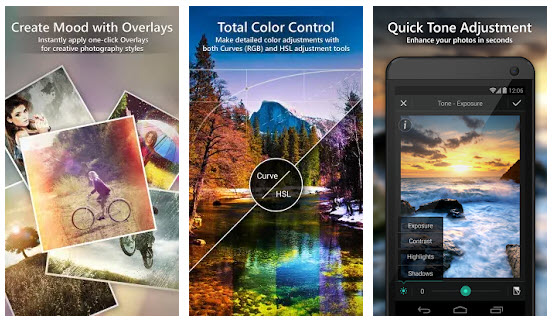 Airbrush – perfect for beauty retouch
The focus of the Airbrush app is on editing selfies and beauty retouch. The app provides a huge amount of special beauty functions in addition to the standard parameters. Thanks to Reshape, Acne, Skin Toner or Whitener, you can create flawless skin, enlarge eyes, enhance noses and remove coffee stains. The free Airbrush app is available in the App Store and Google Play Store.
The "Makeup" option enables you to try out different makeup styles and looks at the touch of a button. Admittedly, the makeup suggestions might not look great on everyone, but they are a nice addition to the range of beauty retouch options. Finally, use different filters to create an awesome look for your photos. You can purchase more functions and filters. We can definitely recommend the free version of Airbrush for minor retouching. But don't overdo it.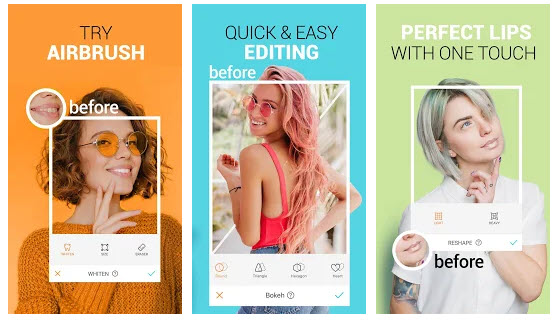 Recommended for iPhone users: Enlight
The Enlight app promises users a firework of functions for the iPhone. The app is not a bargain, but offers a plethora of photo editing functions and filters. The layout and functioning of the app is similar to Adobe Photoshop, making it easy for experienced Photoshop users to work with the app. Enlight is also a good solution for users who do not work with Photoshop and still want to edit their photos professionally. In-depth tutorials give detailed explanations of many functions. Moreover, you can adjust the quality of your edited photos and create printable high-resolution photos, for instance.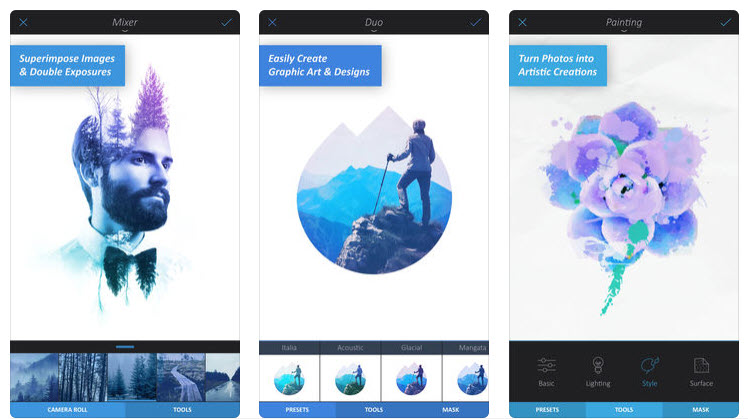 Go to App Store
Conclusion: Added value for photographers
When evaluating the photography apps, our focus was on a wide range of functions. There are also individual apps tailored to special applications and requirements from photometers and colourkey settings to special retro cameras such as Hipstamatic or artistic effects made possible by Photolab. No matter which app you use, one thing is for sure: These little tools can take the hassle out of many routine tasks of professional photographers, amateurs and self-taught shutterbugs.
| | | | | | |
| --- | --- | --- | --- | --- | --- |
| | Snapseed | Fotor | Pixlr | PhotoDirector | AirBrush |
| Scope of functions | | | | | |
| User friendliness | | | | | |
| Design | | | | | |
| Creativity | | | | | |
| Operating system | iOS, Android | iOS, Android | iOS, Android | iOS, Android | iOS, Android |
| Costs | free | free, upgrades/in-app purchases possible | free, upgrade for money | free, upgrade and in-app purchases for money | free, in-app purchases possible |
| Key features | many setting options at a swipe | source of inspiration for new challenges | large selection of overlays, effects and frames | artistic effects and smart object removal | perfect for selfies and portraits |
Photo credits: Rawpixel.com, Lenka Horavova, bondburn / all via Shutterstock
Apps: Sun Surveyor Lite, Sky View Lite, Long Exposure Calculator, Rolleimoments, PhotoBuddy, PhotoPills, Snapseed, Fotor, Pixlr, PhotoDirector, AirBrush, Enlight / camera vendors