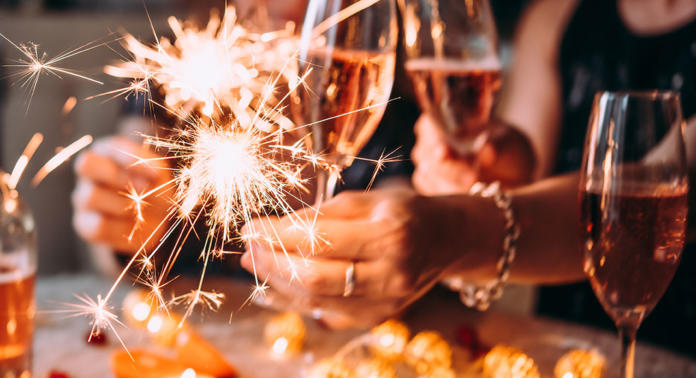 The annual office holiday party is not at the top of the list of all employees and some will prefer to stay away. To make sure most of the staff attends the event, the invitation should spark anticipation and enthusiasm for the party.
It's that time of year again. Get your guests into the spirit of the season and build their anticipation for a cheerful corporate end-of-year celebration. To achieve this, you should avoid overused Christmas phrases and create inspiring invitations that pique their interest.
The run up to Christmas is a busy time of the year for most of us where time is at a premium. So many people will try to skip events they see as an unnecessary and time-consuming obligation. With this in mind, it will be much easier to craft holiday party invitations that draw as many employees and customers as possible to your event. Designing a good invitation will go a long way in achieving this.
Contents
When is the right time to send your Christmas party invitation?
This question is not so easy to answer: If your invitations arrive too late, many of your invitees might already be busy with other obligations during this time of the year. However, if you send out your invites too early, at the beginning of October for instance, people may have forgotten about it by the time the event comes around or they are not yet in the spirit of the season to get excited about a Christmas party.
So what to do? The solution is simple: E-mail Christmas party save the dates early in advance to make sure the event is marked down in all of your guests' calendars and follow up with the official invitation which includes all the details a few weeks later.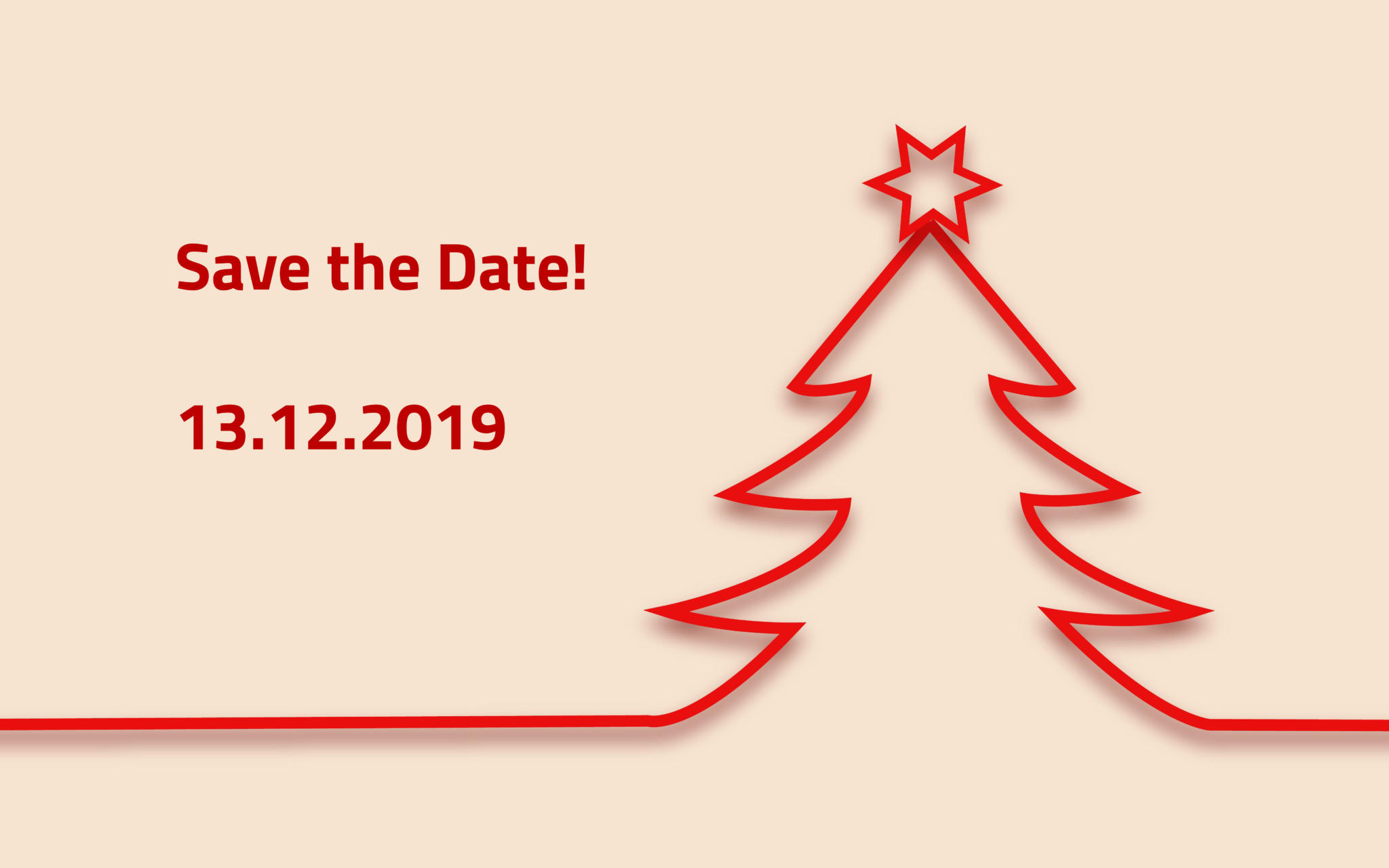 Your plan could be as follows:
Medium-sized and large companies may want to send their save the date e-mails about ten weeks before the party. Since many companies have their office holiday party on a certain day, such as the second to last Friday before Christmas Eve, you may want to use "Don't forget!" or "Reminder" in the subject line of the e-mail. If attendance at your Christmas parties has been low in the past, it is a good idea to include a hint that piques the invitees' interest. Then mail the actual invitation two weeks before the party; sometimes a week in advance is sufficient.
Your save the dates should be e-mailed about ten weeks before the party.
If you invite external guests, who are not with your company, the procedure must be adapted accordingly. Save the dates for very busy executives should be e-mailed about ten weeks in advance and the actual invitation three to two weeks before the party. To invite VIP guests, it is recommended to coordinate the date with them in advance.
If you are planning a holiday party for a small company or a department, you won't need save the dates in most cases since the date is usually scheduled collectively. If this is not the case, the right time strongly depends on the corporate culture. Announcing the event five weeks ahead of time may be perfect for a young startup, whereas a longer lead time will be necessary in other settings, especially when sales reps are among the guests. The kind of party you are planning will be decisive for the layout of your invitation card. If you hire a party caterer, you may need to provide a final headcount before the event. If the team just meets for a casual Christmas get-together at the pub, no detailed planning is needed.
Christmas party invitation: which information to include
Whether you send a casual postcard or an elegant letter, there are a few things that must be put on a Christmas party invitation to give your guests all the information they need and facilitate planning.
The date and time: Write the exact date and day of the week on the invites, e.g.: on Friday, 15 December 20XX. Add the time when the party starts next to the date, and if applicable, when doors open.
Duration: Make sure it's clear on the invitation how long the event lasts. If your party has to end by a particular time, this should be included on your invitation. You may also want to let your guests know when it is appropriate to leave because the official part is over. Wordings such as "Music and dancing after dinner" are suitable for this purpose.
Venue: You should give the exact physical address of the party venue, even if it's a well-known local pub. You may have to add directions for non-locals. Additionally including information on public transport or parking facilities near the location will be appreciated by your guests.
Who is invited?: Most corporate Christmas parties are for employees only. Sometimes they are allowed to bring their spouse or someone else along. To avoid misunderstandings, you should clearly state who is invited to the party. The most elegant way to do this is by including an RSVP: "I will attend with a party of xx" suggests that the invitee is allowed to bring a plus one whereas "I will/will not attend" signals that the invitation is for the addressee only. Wordings such as "Our staff Christmas party" or "We look forward to seeing you and your partner" are other options to get the message across.
Dress code: Sometimes the choice of venue makes it obvious what to wear. In other situations, this is less evident, so make your guests feel welcomed by including information on the appropriate party attire. For this purpose, you can either include a PS on your invitations or give dress code details in the body text.
Ask your guests to RSVP: RSVP is French for "répondez s'il vous plaît" and means "please respond." Request your guests to let you know whether they plan to attend the party or are unable to come by using wording such as "The favour of your reply is requested by [insert date]" or "Please RSVP by [insert date]". Not everyone will have responded by the deadline, so it's a good idea to add a few extra buffer days. A reply function or RSVP card facilitates this.
Mentioning additional details: You may want to provide additional information on your invitation, for example, if there is a shuttle service to the venue or to include a vegetarian option.
E-mail or printed invitation?
A company with several hundred employees will probably prefer sending e-mail invitations for cost reasons alone. To show your employees how much you appreciate them or to invite a smaller circle of people to your party, you should go for printed invitations and distribute them internally to the employees.
External guests should always receive a printed card or letter. Send the invitation to the company of the invitee or to their home address.
Compulsory holiday party?
According to labour law, nobody can be forced to participate in a corporate Christmas party against their will. To get employees or colleagues to attend who normally avoid such events, you can use a trick: Include a "Regrets Only" response which requires guests to reply only if they are not coming.
There are various wordings you can use to tell your employees that parties are fun, boost morale and build team spirit such as "let's celebrate together" or "party together as a team" or "celebrate the holiday season with fellow employees" and so on.
Designing a Christmas party invitation
First impressions matter. A creative, eye-catching or classy invitation will be much more likely to boost attendance at the Christmas party than an uninspired letter printed on the standard corporate letterhead. There a several ways to design invitations that build hype about your event and generate enthusiasm for the corporate party.
The paper: Stay away from your standard letterhead boasting your logo and bank details. Instead use blank letterheads or even better a classy paper stock with subtle branding.
Card: A postcard, and especially a folded card, creates a much more upscale impression than a letter. To take your design to the next level and add a touch of class to your invitations, choose a special finish or go for linen cardstock or hammered cardstock to wow the recipient. Design invitation cards that fit your company as well the style and tone of your event.
Envelope: Choose an envelope of a matching paper stock which is ideally the same colour as the letter or card.
Eye-catching: An unusual format will stand out from the pile of mail. How about a long postcard, for example, which also serves as the admission ticket to the party? Let your creativity run wild and design cards shaped like a gift box or a Christmas tree ball.
Colours: Traditional Christmas colours, such as burgundy and dark green, add elegance to your design project. A card in one of these two colours or a combination of both will always look awesome. White is also a good choice as it is associated with snow and works great with most wintry designs. You could also incorporate your company colours provided they fit the theme of the party.
Subjects: fir branches, Christmas tree, reindeer sleigh, angels, snowflakes, holly branches or bells: You can choose from a variety of Christmas images for your invitation. Whether hygge, kitsch or timeless elegance, there is something for all tastes. However, you should be careful with "funny" designs since not everyone has the same sense of humour and some guests may even feel offended.
Handwritten: Handwriting each of your cards is obviously out of the question if you invite hundreds of guests. But to celebrate with a smaller circle of invitees, a handwritten invitation is quite common, however, not mandatory. Whatever you choose, don't forget to sign your invites.
Mailing: If you send the invitations by post, use a seasonal stamp instead of the postage machine. The address can be handwritten or printed on an address sticker.
Gift: Enclose a small gift with your invitation to make it more memorable. This can be a practical hand warmer for the cold season or flat Christmas tree ornaments which are ideal when sending out large numbers of invitations.
Wording samples for Christmas party invitations
We have come up with save the dates and invitations for different kinds of parties and target audiences. Just mix and match text fragments or insert them into your own texts. You can also use a complete wording sample as it is – it's up to you.
Save the Date
Dear colleagues,
We know that Christmas is still a good time away, but that doesn't mean it's too soon to start planning our big party. We are so excited about the unique venue we have chosen this year, that we couldn't wait to let you know … the date that is, the location will be kept secret for a little longer: 18 December 20xx. Mark the date in your diary!
Kind regards (managing director, company)
Dear Ms XX,
Instead of sparking joy, the Christmas season is often a source of great stress for many. We would like to take a break from the seasonal hustle and bustle with you and invite you to join us for a relaxing Christmas party at the Lavinia Resort. We thought we let you know early in advance so you can mark the date on your calendar: 12 December 20xx. The official invitation will follow in the last week of November.
Kind regards (managing director, company)
Dear Mr XX,
That time of the year is still a bit away, but we hope you will make time to join us for our big Christmas party on 8 December 20XX, 7 p.m. Please save the date!
Kind regards (managing director, company)
Dear XX,
We know it's only September … but because we care so much about you celebrating Christmas with us, we thought we thought the earlier the better. Let's toast the season together on 14 December 20xx, 6 p.m. Please reserve the evening for us. An invitation with all details will follow by mail.
XX
Invitation texts for staff and colleagues
Dear colleagues,
Let's celebrate! Join us at the Carson Arena for a little bubbly followed by a Mediterranean gourmet buffet on 12 December. After dinner, you can test your bull riding or karaoke skills. If you prefer a quieter atmosphere, you can retreat to one of the cosy lounges and enjoy a drink at the cocktail bar. Look forward to a big surprise in the foyer at 11 p.m.
….
Kind regards (managing director, company)
Dear Ms XX,
After the frenzy of the past weeks, we all deserve a break. The results of the XX Tour have far exceeded our expectations. Let's celebrate this together at an exquisite Christmas party this year.
A shuttle service will take you from the front entrance to the venue which will stay a secret. It is no secret, however, that you will enjoy a delicious dinner and have an unforgettable evening!
….
Kind regards (managing director, company)
Dear colleagues,
Thank you so much for your hard work in making this business year a big success. Let us raise a glass to celebrate this together.
Please join us for our holiday party on 13 December from 6 p.m. at The White Rabbit, 32 Fountain Road. Chef Dean Parker and his team will cook an exquisite Christmas menu for us. After dinner, we will proceed to the Stellar Bar for our big party.
There is no dress code, but be sure to dress to impress at the Stellar Bar.
….
Kind regards (managing director, company)
Dear colleagues,
Hark! Cash tills ring… especially before Christmas. Let's take a break from the busy retail season and forget about the stress of December for a while at our end-of-year party.
Mix and mingle, join us for a yummy buffet at The Montgomery followed by some fun Christmas competitions after dinner. The winners will get a prize.
Everyone's invited, whether you have been naughty or nice.
Eva and Carl from Marketing
Dear colleagues,
Cheers! We are celebrating Christmas after all. For a while, we thought we would have to cancel our traditional Christmas party this year. But your outstanding commitment and dedication have brought our company back on track.
To thank you for your hard work, you are cordially invited to attend our Christmas dinner with colleagues at The Golden Lion on 14 December, 7 p.m. We had to downsize this year's party a bit but everyone will get a big surprise to make up for this.
Please enter your name in the list in the main office until 5 December.
Kind regards (managing director, company)
Deck the Halls!
You have all been incredible this year! Let's celebrate this at our mega Christmas party. You and your plus one are cordially invited for an unforgettable night out at the Beach House on 22 December from 8 p.m.
Dress code: Just be you
Should I bring a gift? Yes, something you have wanted to get rid of for a long time (for our Dirty Santa)
When does the party end? Well, we'll see…
Can I decline the invitation? Definitely not.
I look forward to partying with you.
XX
Invitation texts for business partners and customers
1
Business partners and customers 1
Dear Mr XX,
Looking for an unusual way to celebrate the season? Then come to our archery Christmas party. Archery builds team spirit and reduces stress, so it is the perfect activity in the busy time leading up to Christmas.
Please be our guest at the Nottingham Archery Centre on 12 December, 6 p.m. Afterwards, all archers will be treated to a delicious meal at The Rose & Crown (details below).
Please RSVP by 4 December.
Kind regards (managing director, company)
2
Business partners and customers 2
Dear Ms XX,
Because of loyal customers like you, this year has been very successful for our company. To celebrate this, we invite you and your partner to join us for a gala dinner at The Hampton Residence on 12 December 20xx, 7 p.m.
Please respond by 5 December.
Place: The Hampton Residence, 10 Hornby Road, XXXX
Date: 12 December 20xx
Start: 7 p.m. (doors open at 6 p.m.)
Dress code: Black tie
….
Kind regards (managing director, company)
3
Business partners and customers 3
Dear Ms XX,
Not another Christmas party!, you may think. But this is a party you don't want to miss out on: Indulge in mouth-watering tapas and experience the magic of flamenco with candlelight.
You are cordially invited to join us
on 14 December 20xx, 7 p.m. at
Bar Ramón, 26 Green Lane (directions enclosed).
….
Kind regards (managing director, company)
4
Business partners and customers 4
Dear XY,
Don't miss out on this year's celebrations. Please join us for a delicious dinner at The Mirabeau. After dinner, we will go to the Barn 13 to hit the dance floor and experience a captivating show.
When? 12 December 20xx, from 6 p.m. (open end)
Where? The Mirabeau, 12 Bay Drive in XXx (shuttle from 5.45 p.m. in front of the agency)
Who? You and your plus one
Dress code? Normal or festive
Why? We have reason to celebrate!
We hope you will join our party.
Kind regards,
5
Business partners and customers 5
Dear Ms XX,
Please join us in celebrating our Christmas party on 10 December and enjoy a festive menu and live music by L'Opéra.
This evening won't be about business or financial figures. We will celebrate the successful business year and the coming holidays together at a small and informal get-together. We greatly appreciate your coming.
….
Please RSVP by 5 December.
Kind regards (managing director, company)