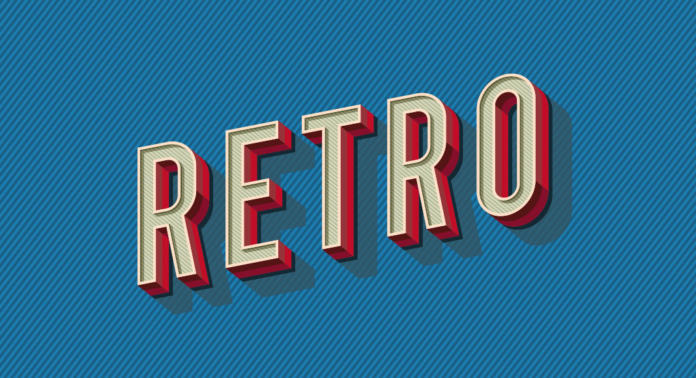 Short messages are especially eye-catching if written in three dimensional letters. The easiest way to achieve this is by using a 3D font. But you can also get creative and use 3D font generators and special plug-ins to create your own three dimensional designs. Below we will present a brief summary of how this works. Additionally, we have rounded up free 3D fonts for you.
Used on movie posters for decades, 3D fonts are not a new invention. But they have lost nothing of their fascination and you don't need fancy design tools to generate a lot of attention by selectively using 3D fonts. 3D fonts create a sense of depth when used for short and to-the-point messages and can be combined with many different font styles.
Since 3D fonts are rather bold, they should be used sparingly. Is the font suitable for the subject, target audience and selected format? For example, it might work better on a poster or flyer than on a diploma or certificate. Young people tend to respond better to 3D effects than the older generation. The great variety of fonts usually has something to suit all tastes.
How to get the perfect 3D font Ideally, you have the perfect font already included in your font package. If not, you will find some providers on the internet who may have what you are looking for, ideally at no cost. We have also put together a small selection of free options for you. Image databases additionally offer 3D vector graphics.
Then there is the possibility to create your own 3D fonts – using the corresponding plug-ins in different programs. This requires some design skills, however. This is easier with 3D font generators which are ideal for novice users who don't have any design expertise.
Tip: We have checked the commercial availability of all fonts, but we cannot warrant this. So please check out the license information and notes on the website you are downloading your font from.
Free 3D fonts for commercial use
The Internet offers a plethora of 3D fonts, however, mainly to private users. We have only included fonts in our selection that are also free for commercial use. See Head-turning poster fonts for two more examples.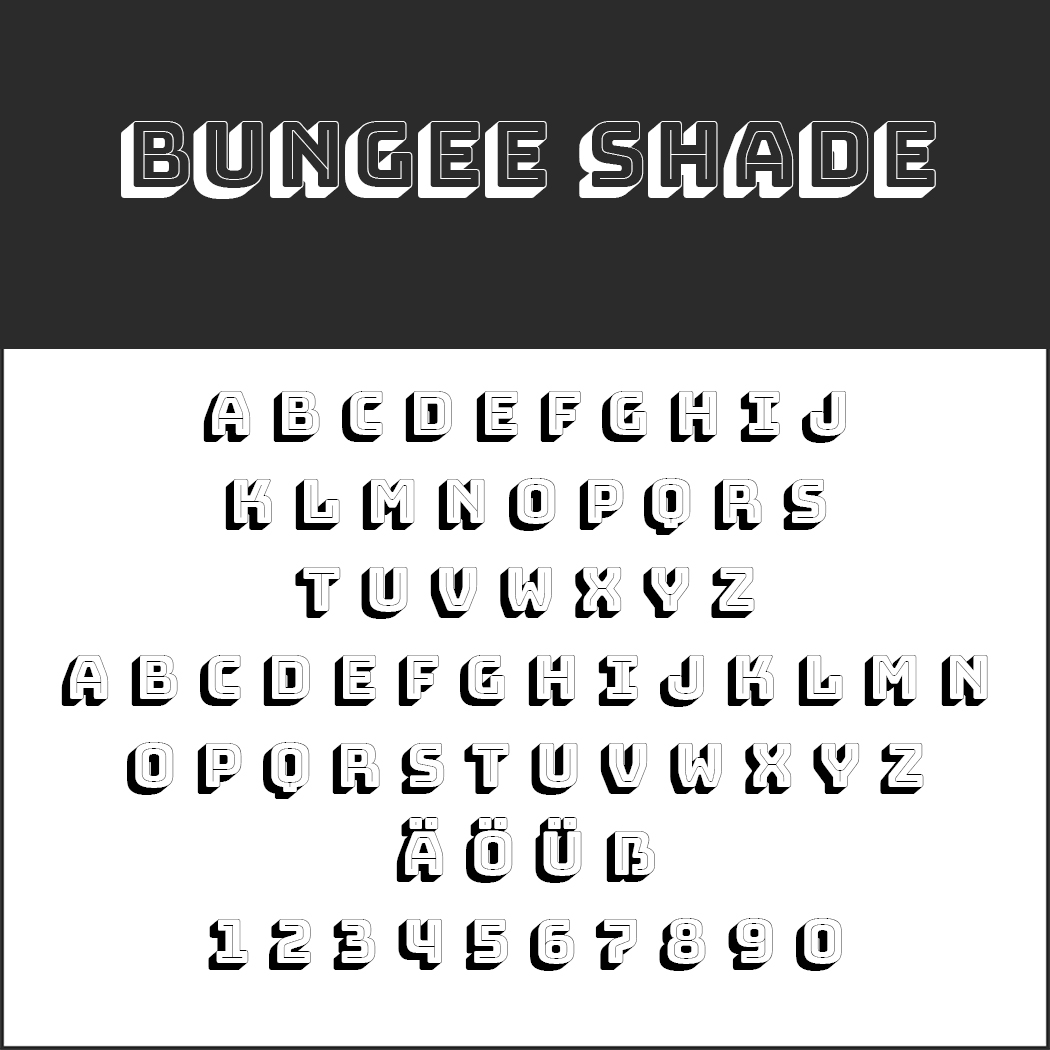 Bungee Shade
The Shade style of the Bungee fonts creates a depth effect which gives the impression of being able to reach through the letters when using the font in the right size and colours. This makes Bungee Shade ideal for advertising displays because the font is easily legible also from a distance.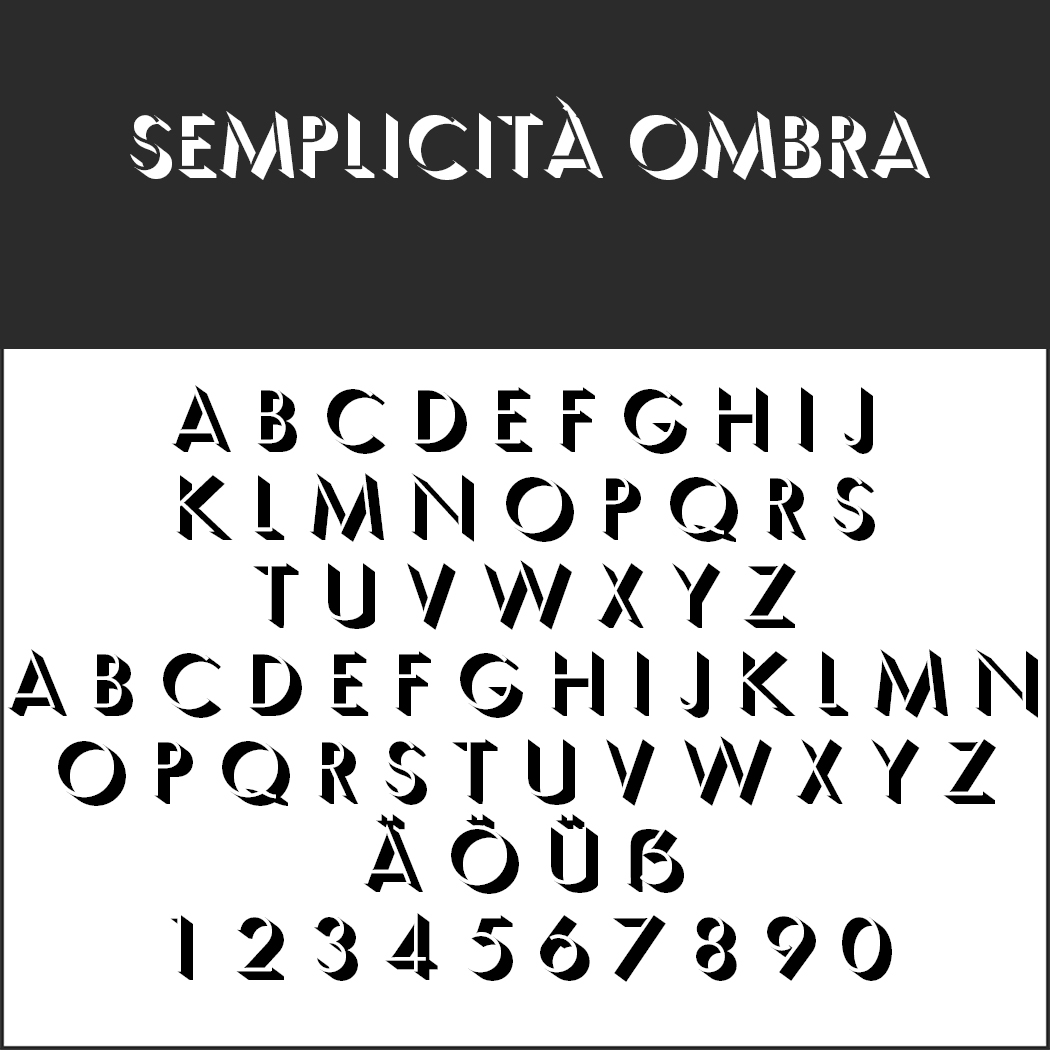 Semplicità Ombra
This font is clearly the diva of our selection: It is the shadow variant to the Semplicità typeface named for the Italian word for "simplicity". The geometric style sans-serif was originally designed in Italy in 1930.
License: Creative Commons Attribution-NoDerivs License (https://creativecommons.org/licenses/by-nd/3.0/)
Download: .zip file
Font format: OTF
Design: Alessandro Butti (1930), the Ombra style: Nebiolo
Uppercase letters only, ß included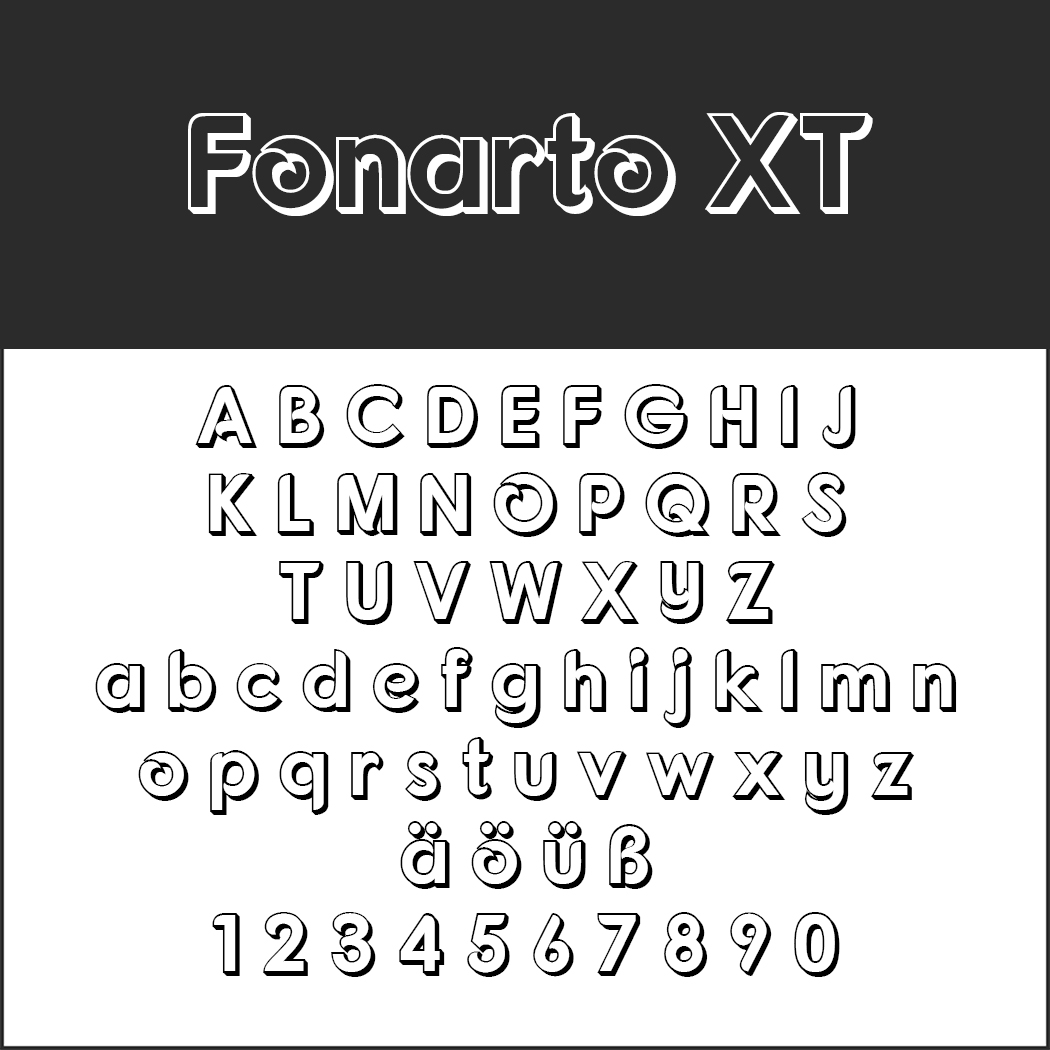 Fonarto XT
Indonesian designer Arwan Sutanto wanted to combine both classic and modern elements in his Fonarto font. And he has been quite successful as this unique typeface shows. Despite its whimsical details, the font is easy to read and is perfect for all cheerful occasions.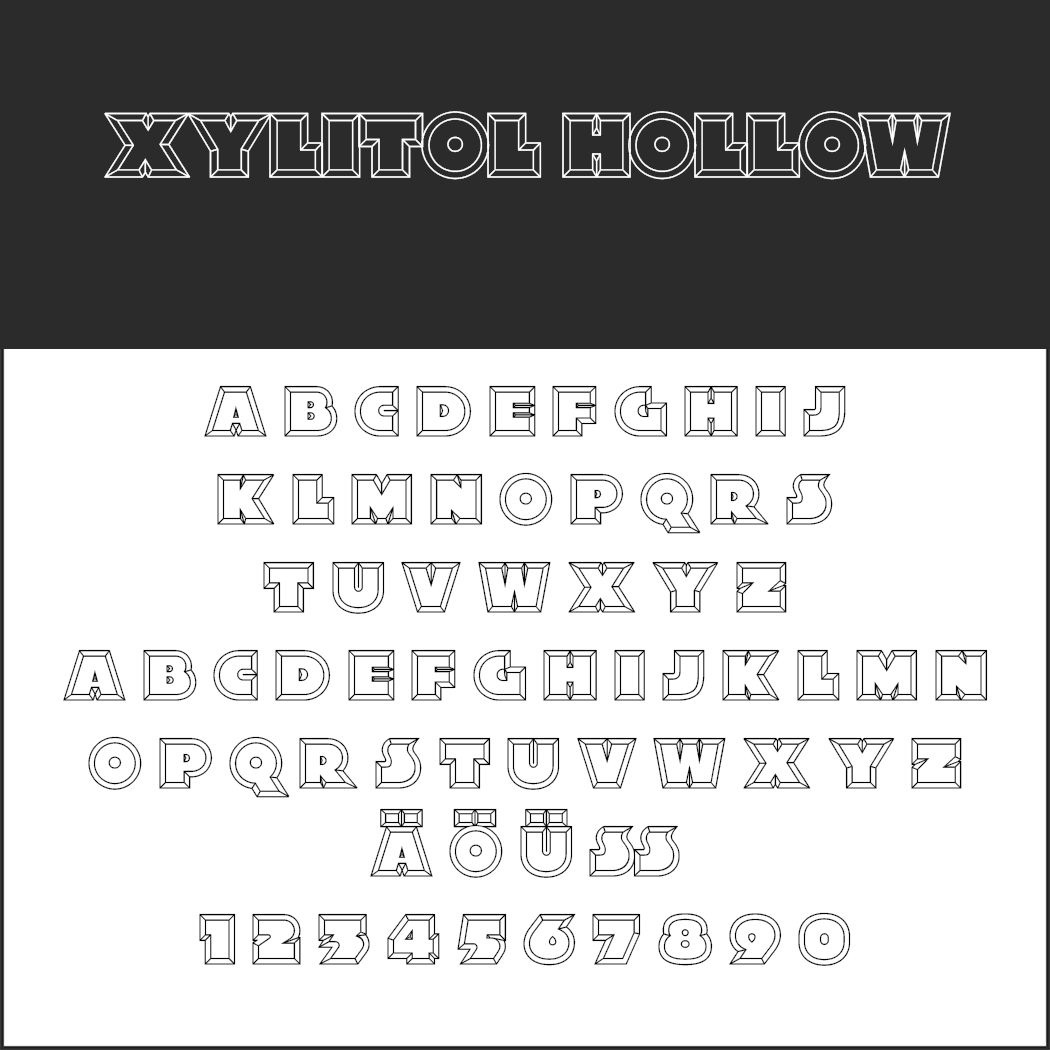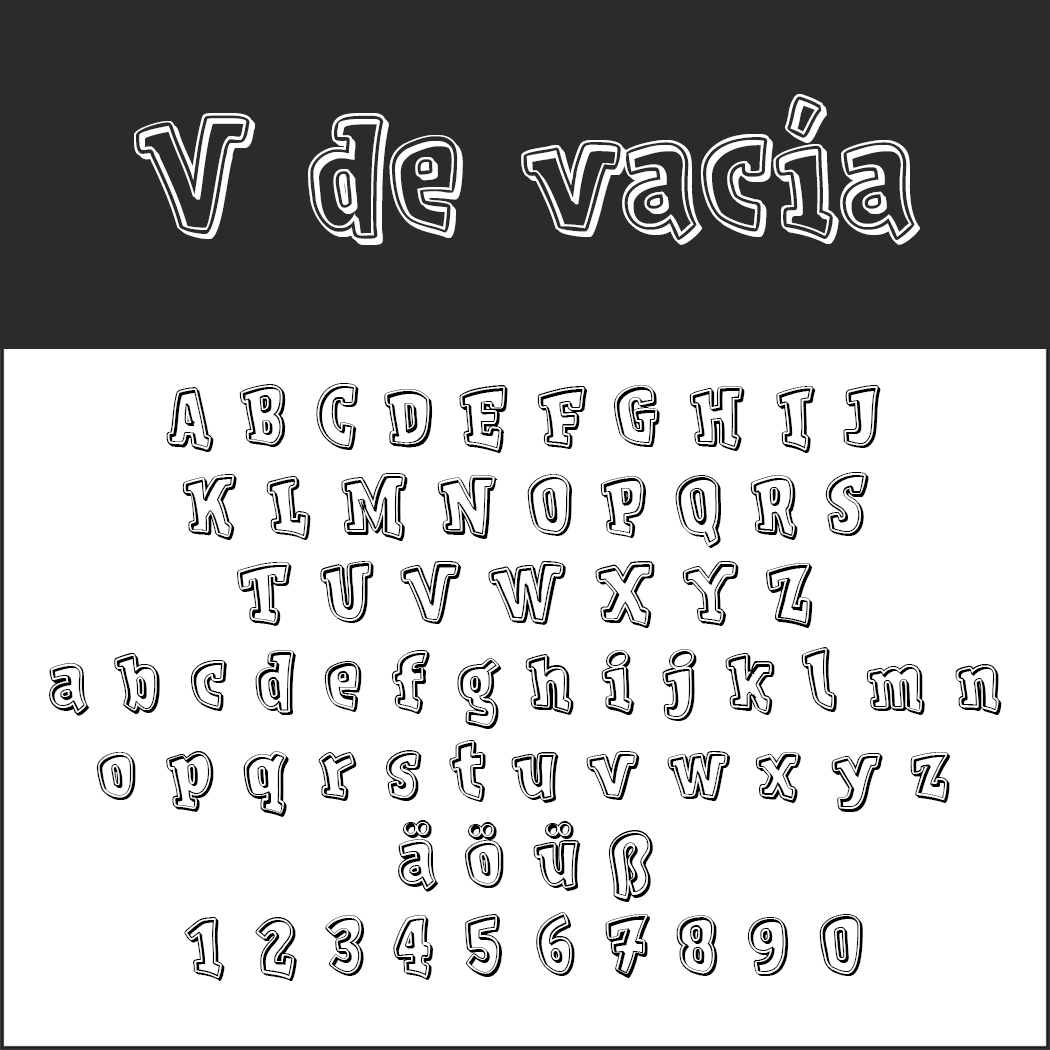 V de Vacía
The uniquely shaped letters of V de Vacía give the impression of coming to life at any moment. This funky typeface is originally from the North of Spain. It is ideal for all fancy, comic-style design projects.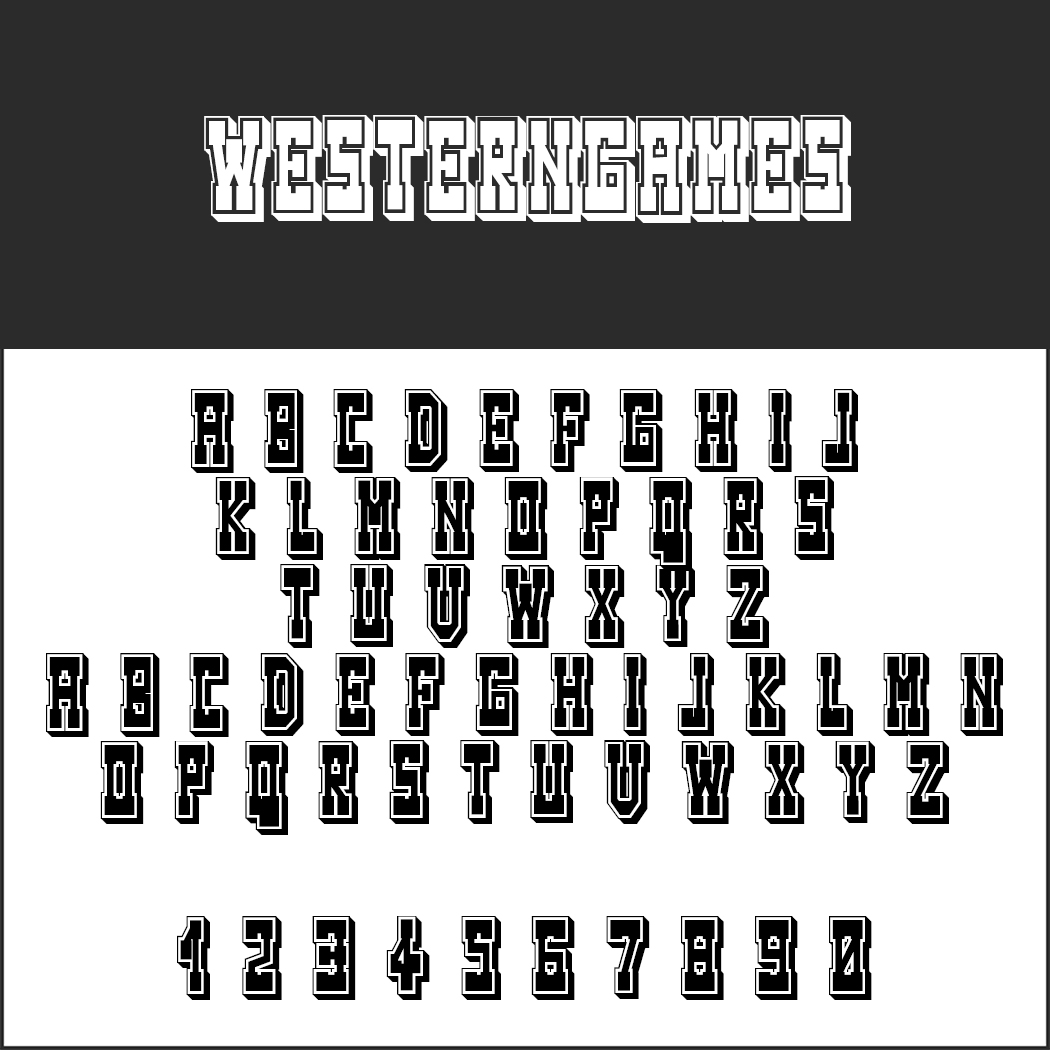 Westerngames
The name says it all: Evoking that ol' Wild West feel, the font is a sure eye-catcher, however, it is not very easy to read. This typeface brings the Wild West to life and is perfect for all western-themed design projects.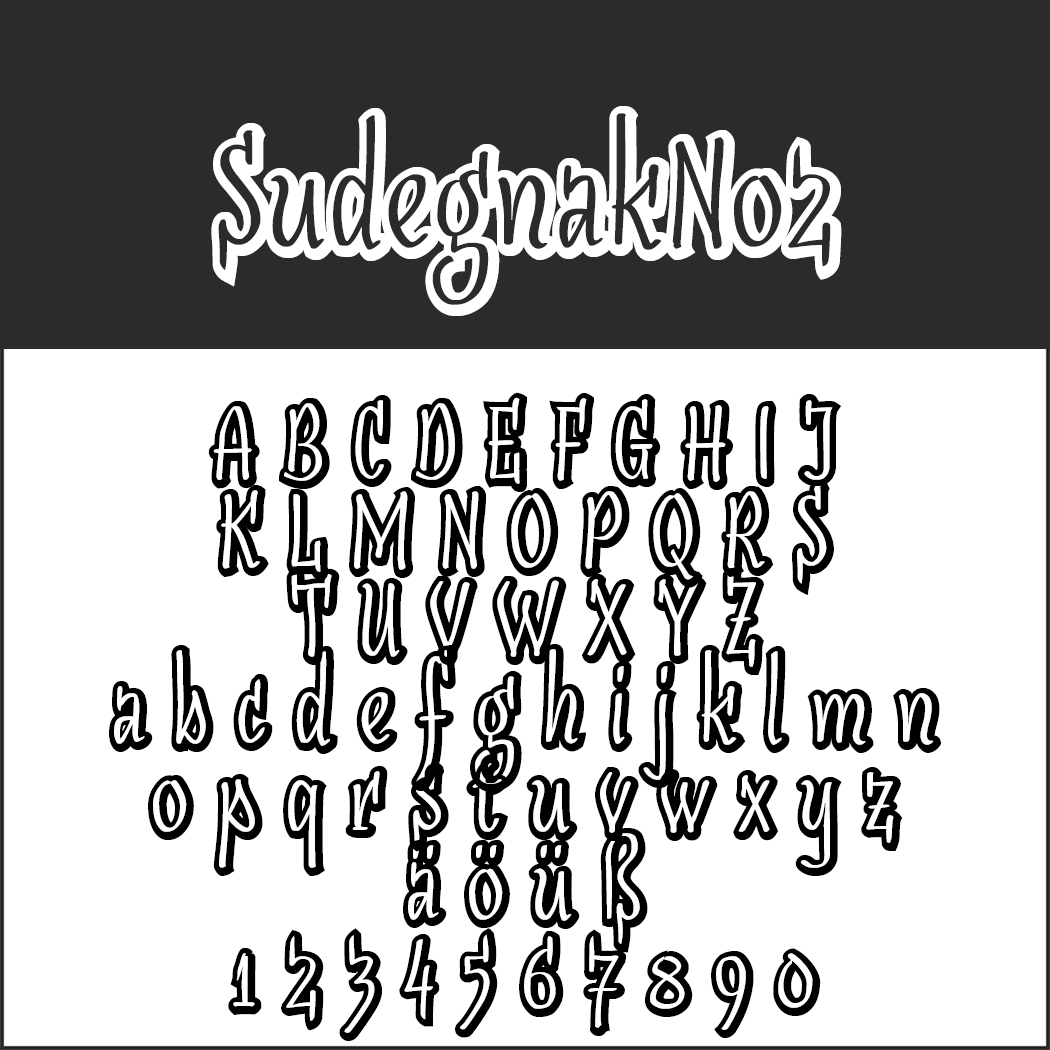 SudegnakNo2
This is another font that does not aim to be grasped at first glance. Rather it invites the viewer to take a closer look. Its handwritten style makes it the perfect choice for all kinds of design projects. A few details loosen up the typeface and give it a modern touch.
3D font generators and vector graphics
3D fonts are especially used in titles, headlines, or slogans. There are many ways to create beautiful 3D typography for your designs. If you don't have a 3D font installed on your computer, you can use vector graphics of image databases or 3D text created by 3D font generators and subsequently embed them as an image.
Vector graphics
All professional image databases offer vector graphics with 3D characters ranging from simple letters to complete text layouts. However, it is not easy to add your own content to these scalable EPS files so it may take a while until you find a solution that works best for you. On the upside, you don't have to worry about the design because it comes ready to use. However, this variant is not free unless you have already subscribed to an image database.
3D font generators
3D font generators are a no-cost alternative. Choose one of several templates, add your own content and voilà your text appears in the desired 3D outfit. It couldn't be easier.
Providers include:
Cooltext (https://cooltext.com)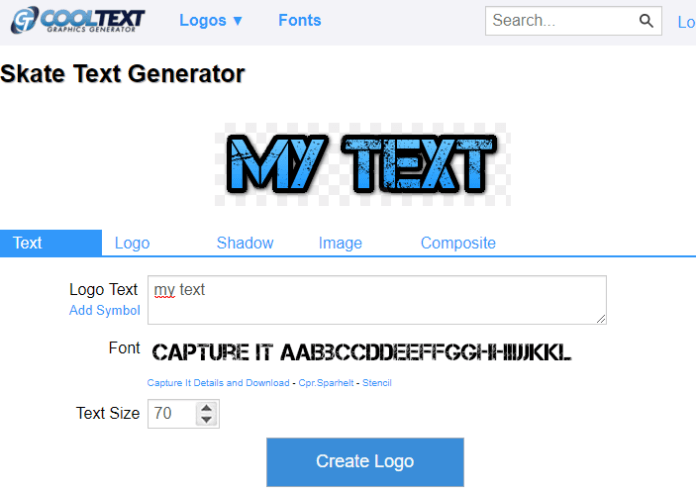 Cooltext allows you to choose between many different styles such as "Elegant" and "Gold" whose font type and size you can change. If everything is to your satisfaction, generate your logo with a simple mouse click. You then have an hour to download the result. After this time, your design will be deleted.
Font Meme (https://fontmeme.com/avengers-endgame-font/)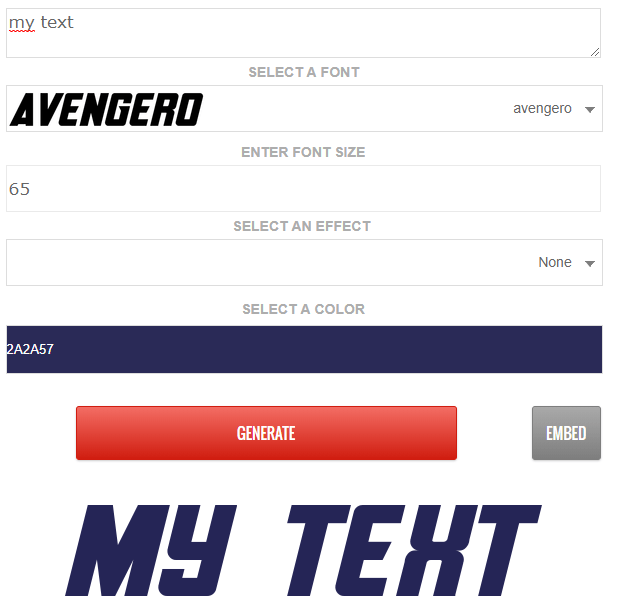 On the Font Meme website, you pick a style based on a popular movie like Indiana Jones or a well-known brand logo (in our example it is from the Avengers Endgame movie). The font is usually preset, but there are many options to adjust colour effects. You can either embed the finished image in HTML using the output code or directly open and save it.
Creating your own 3D fonts
This method requires the most effort. But it is a great way to create personalised fonts with a plug-in for users who have some experience with one of the corresponding software programs. Even beginners quickly get familiar with it.
Using Adobe Photoshop / Illustrator
Creating awesome 3D fonts in Photoshop is not rocket science. But you need a powerful computer to run the latest version of Photoshop. The video tutorial shows how this works: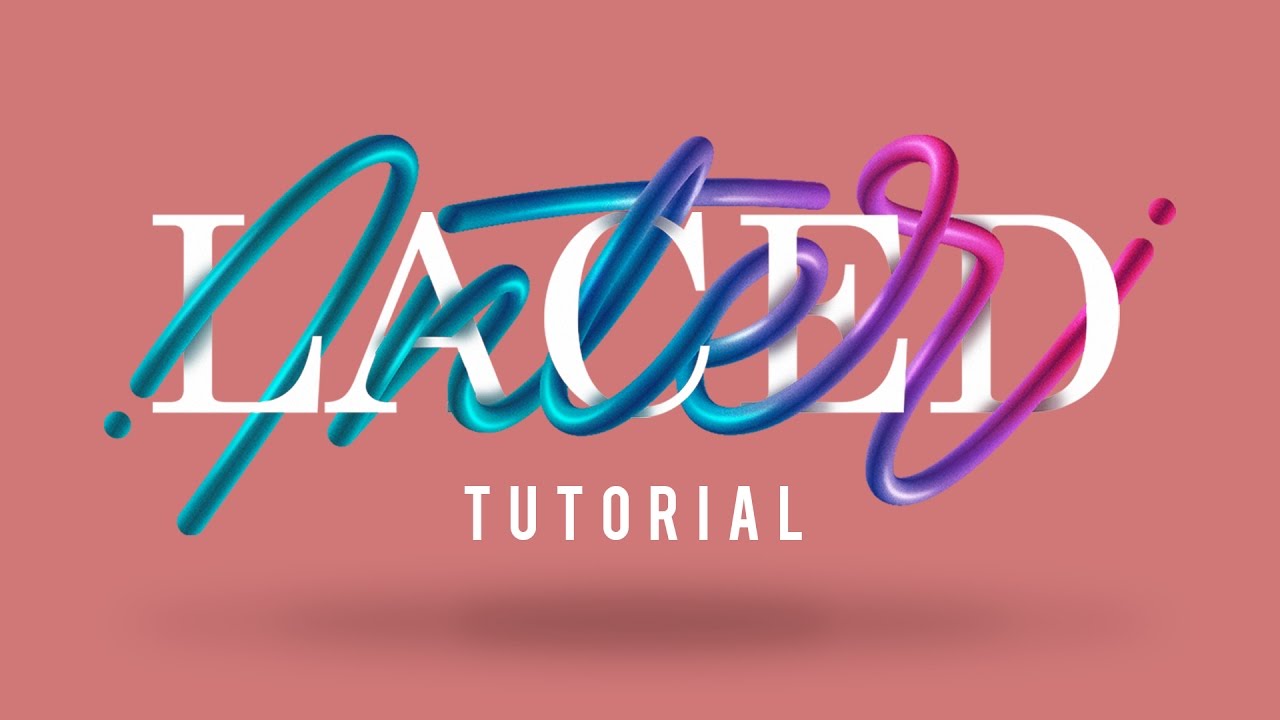 Using Microsoft Word
No special expertise is needed to create 3D fonts in Word. It is as easy as using a 3D font generator. Just click Insert > WordArt. A menu containing different 3D styles opens. After choosing a style, a text field opens in which you can write your text. Click the Start tab to vary the font type, size and colour as usual. However, WordArt is not suited to create professional designs and artwork to be printed.
Image source: Africa Studio (Shutterstock)