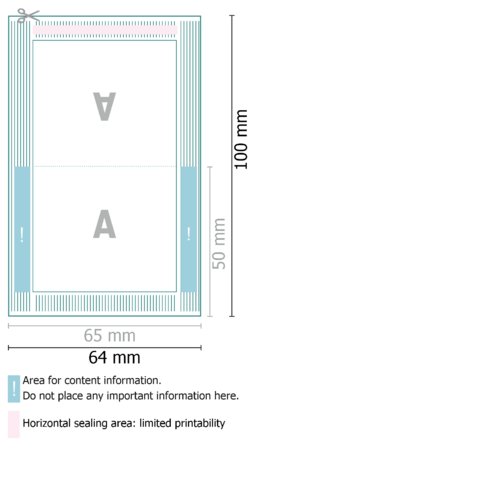 Artwork information Sugar sachets
Data format: 6,4 x 10 cm
Trimmed size (closed): 6,5 x 5 cm
Special requirements for creating the artwork:

The statutory mandatory information such as content, best-before date and manufacturer/distributor are added automatically during production. Please note the highlighted sections in the data sheet and in the print template
please note the legal requirements for printed food packagings

Resolution: 300 dpi
Fonts must be completely imbedded or converted to curves
Preferably use sans-serif Fonts, e.g. Arial, Verdana, Helvetica etc.

width of the lines: at least 1 pt. (0.4 mm)

We will not check for spelling and/or typographical errors
We will not check for overprint settings
Transparencies created with CorelDRAW must be reduced
Comments will be deleted and not printed
Form field content will be printed
Product details
Four-colour print on the front, reverse blank (4/0)
rectangular sachets with white sugar from German brand manufacturer
content: approx. 4 g white sugar per sachet
base colour of sachets: white
Store in a dry and dark place, between 14 °C and max. 20 °C, away from direct sunlight. Do not store near heat sources (e.g., heating)
Content: sugar.
We use Trustpilot as an independent service provider for obtaining reviews. If you want to know which measures Trustpilot takes to ensure that the reviews are genuine, click
here
.